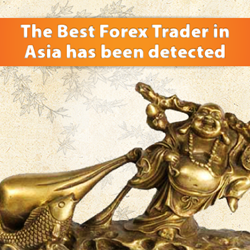 Over 1600 participants signed up and fought for the main prizes and bonuses.
NZ, Auckland (PRWEB) August 01, 2013
The competition was held between May 27th and July 19th, 2013 and was only available for traders from Asian countries.
"Asian Forex Championship made a hit," commented Denis Peganov, Director of FXOpen NZ Limited. "Over 1600 participants signed up and fought for the main prizes and bonuses, while the total sum of prize money in the contest amounted to $10 000."
Real money bonuses were paid to 163 successful traders, who increase their initial deposits by 50% or more, as it was required by the contest rules.
The first three prize-winning places were taken by the strongest Asian Forex traders. Indonesian trader Ariful Miftakhuddin was awarded the title of the Best Asian Trader and received the main prize – a PAMM account with $3000 in it.
Farid Ikram Ahmad Zabidi from Malaysia and Sharif Abughazaleh from Jordan came in second and third respectively. Both of them were rewarded with PAMM ECN accounts with the balance of $2000 and $1000 respectively.
ForexCup is a popular and successful Forex-relating project implemented by FXOpen - one of the leading brokers in the industry. Forex traders all over the world have appreciated the scope and anxiety of ForexCup competitions and the rewards associated with them. The project goes into gear and will soon demonstrate new interesting ideas.
FXOpen congratulate all participants, bonus-holders and prize-winners on good results and invites all traders to join our upcoming forex-contests at ForexCup.com.
Contact information:
FXOpen NZ Limited
Level 3 187 Queen Street, Cbd, Auckland,
1010, New Zealand
Phone: +64 9 801 0123