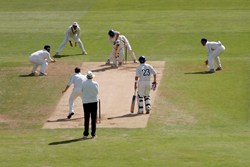 In order to win in sport, you need world-class athletes and world-class coaches. You can not win unless both are in place.
Wilmslow, Cheshire (PRWEB UK) 1 August 2013
Writing recently on the decline of Australian sport across all areas from cricket to rugby and swimming to track, Sir Clive Woodward stated that in order to win in sport, you need world-class athletes and world-class coaches: you cannot win unless both are in place. In spite of the introduction of newly-appointed coach Darren Lehmann, the Australians are in a current state of disarray, failing to rise to the challenge set in this years' Ashes series, with 2 Tests secured by the rising England team and whispers echoing at the possibility of an English 5-0 triumph. A change in strategy that has seen England invest into a strong coaching culture while Australia makes cut-backs in investment across the sporting sphere is proving costly to Lehmann's team, while the English continue the great British legacy set by a year of outstanding sporting achievement.
Taking a leaf out of the cricket coaching manual, sales training and development experts Pareto release their latest whitepaper, exploring the power and success to be gained through the implementation of a coaching culture within UK business, rather than simply training alone.
"Organisations now recognise the value to be added by training and developing employees, but what the Ashes demonstrates is that there is a distinct difference between more traditional and often 'static' training practices, and the process of embedding a coaching culture within an organisation," Pareto Director of Managed Services, Bryn Thompson explains.
"At a most basic level, coaching always requires a coach. It is their role to identify with the developmental needs of individuals, facilitating enhanced performance by looking at each employee in their own context. A standard training programme can never hope to satisfy the unique needs of opening and middle order batsmen, swing, seam and spin bowlers, all-rounder and wicket-keepers: likewise, enrolling all sales employees onto a standard sales training course can never match the development needs of Account Managers, Field Sales people and Business Development Executives alike. To build world-class sales teams, we need to take a tailored approach."
'Ashes to Ashes – What Happens when you stop Coaching?' takes the analogy of cricket coaching to the next level, exploring the unique differences between training and a coaching culture, the pivotal role played by the coach and where decision-making should take place when it comes to considering developmental needs for the future of individuals, teams and organisations as a whole. One of the greatest downfalls demonstrated by the Australians, Woodward argues, is the placement of tactical decisions in the hands of senior management who have limited experience at grass-roots level, opting for a strategic approach that regularly fails to meet the needs of the sports superstars who are being entrusted with the responsibility of delivering results. As the Australians are continuing to demonstrate, this approach, when combined with a lack of investment into coaching and development, can prove costly and damaging.
'Ashes to Ashes – What Happens when you stop Coaching?' is available now to download from the Pareto website.
About Pareto Law:
Pareto Law is the UK's biggest and most successful sales enhancement company: the authority on sales, no less, since 1995. Pareto brings companies the 20% of the sales team that makes 80% of the difference.
The Pareto Effect can be experienced in many ways and it can have a remarkable, measurable effect on your business. Pareto delivers this effect through four key elements – Sales Recruitment, Sales Training, Executive Recruitment and Sales Development, bringing your business sales assessment and accreditation solutions to deliver sales excellence.