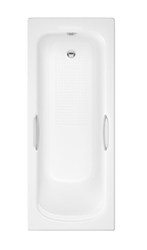 (PRWEB UK) 1 August 2013
With households today now using as much as 55% more water than we did 25 years ago limiting the amount of water we use in our households has never been more important. With climate change taking a greater hold the general public must start thinking about water usage habits and how we can save water wherever possible.
The bathroom is one of the rooms in the home that consumes a vast amount of water. From flushing the toilet, brushing teeth, showering and bathing this is an area that can be addressed relatively easily and cost effectively.
Aside from top tips such as turning the tap off whilst cleaning teeth and taking shorter showers installing modern bathroom equipment is a great way to use much less water and improve the appearance of your bathroom!
When changing your bath why not consider installing a water conserving bath like the Granada from Trojan which is available at tradeplumbing.co.uk. This is a slightly shallower bath which has it's overflow set slightly lower which means you cannot fill it up as high therefore saving you water. It is also made from acrylic which holds the heat for a lot longer, reducing the need to top up the bath due to the water cooling down. You do not lose any of the functionality of the bath but consume less water which is both good news for the pocket and the environment.
The Trojan Granada range starts from just £119.86, to browse please follow the link http://www.tradeplumbing.co.uk/baths/straight-baths/trojan-baths.html
Whilst the water is off why not take the opportunity to install a modern toilet too. Modern toilets use typically much less water than they used to sometimes as much as over 50%. They can flush on less than 6 litres of water compared to older models that can use up to 13 litres. Look out for dual flush models which run on around 4 or 6 litres of water.
Browse the extensive range of modern toilets at tradeplumbing.co.uk
http://www.tradeplumbing.co.uk/bathroom-suites/basin-toilet-combinations/toilet.html
For more top tips and help when it comes to redesigning and installing your bathroom please visit the information and learning zone at http://tradeplumbing.co.uk/learning/
tradeplumbing.co.uk has been operating in the online plumbing and heating industry since 2006, however the family has been in the bathroom showroom industry for over thirty years.
Selling everything you need to create your dream home tradeplumbing.co.uk supply bathroom suites, showers, shower enclosures, radiators, heated towel rails and central heating. They can supply and source virtually any product and brand from the traditional to the designer at a budget to suit everyone.
Based in the heart of Colchester, Essex tradeplumbing.co.uk provides itself on exemplary customer service and truly believes that by equipping their customers with the necessary skills and knowledge they can make the correct informed decisions and create a dream home.
*Statistics from Bathroom Manufacturers Association, European Water Label