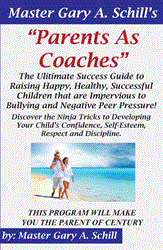 Cedar Park, TX (PRWEB) August 01, 2013
Peak Performance After School Program is hosting a Parents as Coaches Seminar, Friday August 23, 2013. Master Schill will share with parents the secrets to developing routines, and success habits that will greatly improve their child's ability to succeed in the upcoming school year.
Master Schill will also share Ninja Secrets with parents on how to handle discipline challenges, without losing control of situations or destroying their child's self-confidence.
Master Schill is an award winning three-time best selling author. His latest best seller, "The Success Secret" was co-authored with Jack Canfield, the co-author from "Chicken Soup for the Soul". He has been featured on ABC, CBS, NBC, FOX, The USA Today, and many international publications.
The Parents as Coaches Seminar will be hosted at Peak Performance Training Center, 500 Brushy Creek Rd, Ste. 504, Cedar Park, TX 78613. The seminar will run from 6 p.m.- 8 p.m.
For more information, please call 512-918-8921 or visit http://www.CedarParkAfterSchool.com.