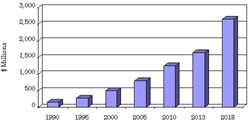 Wellesley, MA (PRWEB) August 01, 2013
In the new report, The Global Market for Membrane Microfiltration (Report Code: MST028E), from BCC Research (http://www.bccresearch.com), the market for membrane filtration (MF) is expected to reach $1.65 billion in 2013. The report forecasts total market value to reach $2.64 billion in 2018, after increasing at a five-year compound annual growth rate (CAGR) of 10.0%.
Membranes are thin sheets or surface films, natural or man-made, with apertures through which small molecules may pass while larger ones are retained. At its most basic, a membrane serves as a sieve, separating solids from liquids forced through it.
MF membranes are used in water, wastewater and process water treatment; food and beverage processing; semiconductor and electronics manufacturing; pharmaceuticals and biopharmaceuticals production; and for separations in the chemical, petrochemical and other manufacturing industries.
The drivers for membrane microfiltration (MF) market include regulations, industry standards, consumer demand, and the need to replace aging and/or outdated existing equipment. In addition to these drivers, the regulations imposed by governmental agencies such as environmental and health is helping the market in achieving further progress and growth. At the same time, with water scarcity becoming an issue, production facilities are increasing their water independence.
The membrane industry is roughly divided into two profit streams: industrial and biopharmaceutical. By price per volume and replacement, the most profitable area is biopharmaceutical filtration and labs. This is because of the level of purity needed, increasing global customers, and the constant need to change filters.
The second profit stream, industrial filtration, faces tough challenges. The report states that this stream will be the most cost driven and will rely the most on governmental infrastructure spending and economic forces. Also, membrane life expectancies are high for this stream, which means revenue generated from replacement filters will be far less than new filters going into new plants.
The industry is also expected to achieve growth from power plants and other industries where water purity has a direct correlation with system performance. Other areas of growth identified in the report include the semi-conductor and electronics manufacturing industry and the food and beverage industry. The food and beverage industry employs membrane microfiltration in standard treatments for dairy processing.
This report is unique in the way it has united disparate data sources into one comprehensive overview of the market. Senior marketing personnel, venture capitalists, executive planners, research directors, government officials and suppliers to the membrane will find this report of value. Novice readers who wish to understand how regulations, market pressures, and technology interact in the MF membrane arena also will find this study worthwhile.