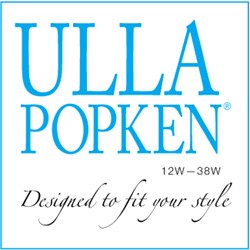 "The designs are reflective of the newest trends in fashion like: placement prints and interesting embroideries. The collection has the trendiest patterns like houndstooth in a number of silhouettes." - Diane Cantor, VP of Merchandising
Baltimore, MD (PRWEB) August 07, 2013
It's a whole new season at Ulla Popken, a leading source of plus size fashion apparel for women wearing sizes 12W to 38W, but the company says its new line is not about fall or any specific time of year. Instead of taking a traditional, seasonal stance, the company has focused on creating its newest line with the idea that plus size women, indeed all women, are really looking for the flexibility and affordability of clothing that will take them through the year.
That is not to say that Ulla Popken's plus size fashion collection is not targeting a fashion-aware customer: it is actually quite the opposite. Vice President of Merchandising and Inventory Diane Cantor says, "The designs are reflective of the newest trends in fashion like: placement prints and interesting embroideries. The collection has the trendiest patterns like houndstooth in a number of silhouettes."
With the merchandise assortment it markets in its catalogs and on its website, Ulla Popken focuses on the plus size woman who is self-expressive, creative, and looking for apparel that she feels is as unique as she is herself. This customer is also looking for clothing that offers an excellent value, is made to a high standard of quality, and can easily be exchanged or returned without a stressful experience. Ulla Popken offers all of these advantages to its customers; that is why it is "the better choice" in plus size fashion.
While Ulla Popken offers a full line of wardrobe items, there is a particularly extensive variety of plus size tops, including richly embellished plus size tunics with embroidery, beaded detail, and "jeweled" designs. Popular silhouettes for plus size tunics include A-line, empire and baby doll shapes, as well as easy-fitting looks in exclusive prints, with colorblocking, and in multi-pattern and texture mixes.
Another popular category within tops is plus size tees. At Ulla Popken, plus size tees come in the most versatile neckline styles and sleeve lengths, and in a prism-like collection of sophisticated colors, as well as in the basics. Styles are unadorned and ideal for layering, a great strategy for customers looking to maximize their wardrobe options, or come with embroidery or crochet details that add that unique, artistic flair to an outfit.
Women are also enthusiastically shopping Ulla Popken for plus size career wear. Ms. Cantor remarked, "We have expanded our career assortment and are receiving a positive reaction to it. Ulla's objective is to offer our customers exciting choices for all of their wardrobe needs." Ulla Popken shoppers can find plus size career fashions that include flattering dresses in colors and patterns that span the seasons, well-designed pants, many of which come in two lengths, plus sweaters and jackets, all in beautiful yarns, fabrics and patterns, chosen for their versatility and comfort throughout the year.
It's not just about new season shopping now at Ulla Popken, the big story is really all season shopping. Ulla Popken's newest plus size fashion collection for the curvier, larger woman who wears size 12W through size 38W offers versatile apparel that is beautiful, fashionable, and unique, while providing the practical advantages of multi-season wearability. Plus size women who want to express themselves with style, taste, and personality, and still be practical in their fashion choices will be delighted with Ulla Popken's latest collection, available now.
About Ulla Popken:
Ulla Popken is a plus size women's clothing retailer selling sizes 12W-38W. Initially a German retailer with more than 320 stores in Europe, Ulla Popken founded its US headquarters in Glen Arm, Maryland in 1993 and serves customers through its catalog and eCommerce.
Website: http://www.UllaPopken.com