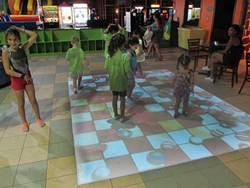 The EyePlay is interactive, fresh on the edge of technology, motion games that the children love.
Armonk, NY (PRWEB) August 01, 2013
Today, Safari Adventure in Riverhead, NY announced the addition of an EyePlay Interactive Gaming System. It was installed near the entrance of the facility. The facility's owner has commented that not only have guests loved the EyePlay, but also the new interactive floor has spurred an increase in return customers.
Safari Adventure is an attraction located in Long Island that provides 11,000 square feet of indoor fun including a four level playground called "Kilimanjaro" suitable for children ages 1-10. The facility also offers a children's entertainment center with video games and challenges, 4 huge bouncers, as well as private party rooms and a cafe. Safari Adventure is open every day from 10am-7pm. More information about Safari Adventure can be found at http://www.thesafariadventure.com.
Owner Stephanie Shin explains how the interactive gaming system aligned with her company's strategy, stating, "Our goal and mission is to provide fun, playful adventures for children to experience. The EyePlay is interactive, fresh on the edge of technology, motion games that the children love. Our goal is to provide an amazing experience and the EyePlay has brought the experience to a new level." As of its installation date, Shin estimates that there has been an increase of 15% in walk in traffic due to return customers.
Shin comments on her first exposure to the system, "My thought when I first saw the EyePlay at the IAAPA conference in Orlando in 2012 is that I wanted this for my business. The goal was to increase foot traffic by providing something fresh, exciting, different and FUN for the children and the goal is absolutely achieved with the EyePlay. I knew the return on the investment would be well worth it!" The EyePlay provides a virtual interactive playground full of colorful graphics and engaging sounds. Kids run, jump, and laugh, as they play games such as Piano, Super Soccer, Frogz, Disco Floor, Cheese Heist and many others.
Safari Adventure stresses the importance of a clean environment, as the staff carefully and meticulously cleans all the playground equipment each night. SinceEyePlay is totally germ-free by its very nature, it also echoes the facility's emphasis on cleanliness and safety.
Shin ads, "Parents ask how to get one in their home! The love all the games and how much the children can play with it hands free!"
About EyeClick:
EyeClick specializes in creating inventive products that transform designated spaces into magical experiences. The company's EyePlayTM, EyeStep and EyeWall products open up a world of possibilities to engage audiences in out-of-home locations. EyeClick has helped leading brands, from Burger King and NASA to Namco and GattiTown, transform their floors, walls and window areas into spectacular interactive displays that leave a long-lasting impression on visitors. EyeClick gives designers, hospitals, event planners, retailers, media companies, family entertainment centers, restaurants, and other organizations the ability to showcase rich interactive digital content in public spaces. More information about EyePlayTM can be found at http://www.eyeplay.info.