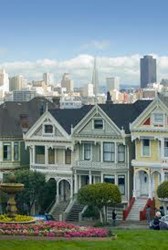 "The expansion of our listings in Fairfax allows us to better serve our buyers and sellers in Marin County and to help them find the home of their dreams with ease. Our team is dedicated to helping people find the best community for their families."
San Francisco, CA (PRWEB) August 02, 2013
The award-winning real estate dynamos at Marin Real Estate have recently expanded their listings in Fairfax. Potential buyers will now have even more options in Fairfax, allowing them to explore more beautiful properties to help them find their forever home. "The expansion of our listings in Fairfax allows us to better serve our buyers and sellers in Marin County and to help find the home of their dreams with ease," said Peter Narodny, co-founder of Marin Real Estate. "Our team is dedicated to helping people find the best community for their families."
Marin Real Estate's constantly updated Fairfax real estate listings include 16 beautiful homes that range in price from $250,000 to over 2 million dollars, enabling clients of all income levels to buy the home of their dreams. In addition to these beautiful homes, Marin Real Estate lists wonderful commercial properties perfect for entrepreneurs. These listings include extensive information on the available properties, along with applicable information about the charming community of Fairfax.
Browsing Marin County real estate has never been easier, thanks to newly implemented Marine Real Estate search engine that allows buyers and sellers to find and list properties with their concerns in mind. Buyers are able to search properties by subdivision, school, zip code, MLS number, and by map, allowing them a variety of options to find their perfect home.
Marin Real Estate makes finding the perfect home or selling a property as hassle-free as possible, thanks to an award-winning team that combines their unique talents to take the stress out of home buying and selling. With more than 60 years of combined experience, Peter and Karen Narodny are experts at helping buyers and sellers get their needs met efficiently and quickly with an agent that cares about them. With expanded listings in Fairfax, prospective clients everywhere can find a wonderful community to call home.
Marin Real Estate
Marin Real Estate is the combined effort of Peter and Karin Narodny, a real estate team that brings more than 60 years of combined experience to the table. Winners of several awards, including the Top Marin Realtor Team of 2009, Peter and Karin pride themselves on their familiarity with Marin County and its residents, having sold more than 400 homes in the last ten years.
For more information, please visit the Marin Real Estate website: marinrealestate.net.
Find Marin Real Estate on Facebook: facebook.com/marincounty.
Follow Marin Real Estate on Twitter: twitter.com/HomesMarin.