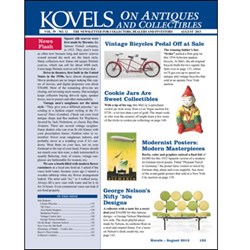 Cleveland, OH (PRWEB) August 01, 2013
A 19th-century Cygnet "Swan" ladies bicycle sold for $24,150 at a bicycle auction in upstate New York. "Kovels' on Antiques and Collectibles" August 2013 newsletter gets up to speed on antique and vintage bicycles with pictures, descriptions and prices. Smart cookies know vintage cookie jars are sweet collectibles and they paid a wide range of prices at a recent Las Vegas auction of more than 140 classic jars. See the "Cookies Out of This World" spaceship cookie jar that went for $6,000 and other examples that sold for less in Kovels' August issue. No designer says "nifty fifties" like George Nelson, and his sleek designs are hot among fans of all things mid-century modern. The Kovels report on two recent "modern" auctions, where several George Nelson pieces of furniture sold for prices ranging from $1,250 for a pair of lounge chairs to $10,000 for an iconic Marshmallow sofa.
Other August newsletter highlights include modernist posters—many topnotch works of graphic design—from the early to mid 20th century that were auctioned in New York City where the top price of $66,000 was paid for a sensuous avant-garde poster advertising Turmac cigarettes. Also featured are pictures, descriptions and prices of pre-Prohibition tip trays that sold at a summer advertising auction in Pennsylvania and wooden Anri bottle stoppers in the shapes of a newspaper-reading man, a rolling pin-wielding woman, a kissing couple and other figures.
Kovels' column, New Uses for Old Stuff, shows a molded fiberglass chair designed by Charles and Ray Eames that was repurposed with a collage of mushrooms and called "Shroom Chair." The popular illustrated Collector's Gallery has answers to readers' questions about a cloth pillowcase top, reproduction Coca-Cola sign, Bossons Indian wall figure and Canadian art glass bowl. August's Dictionary of Marks lists U.S. makers of cookie jars. The Buyer's Price Guide has current prices of dozens of antiques and collectibles.
Next month, "Kovels on Antiques and Collectibles" starts celebrating forty years in business. As a special feature there will be monthly looks at market ups and downs, twists and turns, and trends that have come and gone. Each month an old article will be analyzed and compared to today. Examining trends and prices will lead to smarter collecting and better ways to find bargains and treasures. Keep and eye out for the September 2013 issue.
"Kovels on Antiques and Collectibles" is available as a print subscription or as a digital downloadable version that is part of the Kovels.com Premium subscription.
Terry Kovel, well-known columnist and author, gives information and advice on collecting. She will discuss antiques and collectibles topics with accredited media. Photographs are available. Contact pr(at)kovels.com.
About Kovels.com
Kovels.com, created by Terry Kovel and Kim Kovel, provides collectors and researchers with up-to-date and accurate information on antiques and collectibles. Kovels' Antiques was founded in 1953 by Terry Kovel and her late husband, Ralph. Since then, Kovels' Antiques has continually published some of America's most popular books and articles about antiques, including the best-selling "Kovels' Antiques and Collectibles Price Guide," now in its 45th edition. The Kovels' website, online since 1998, and free weekly email, "Kovels Komments," give readers a bird's-eye view of the market through up-to-date news, auction reports, free online Price Guide, a Marks Dictionary, readers' questions with Kovels' answers and much more.
Contact Information:
Liz Lillis
216.752.2252
Pr(at)kovels(dot)com