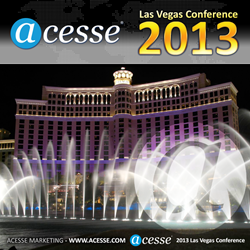 Minneapolis, MN (PRWEB) August 01, 2013
Acesse Corporation will be hosting its Annual Acesse Las Vegas Conference from November 24 – 26, 2013 at the amazing Bellagio Hotel. The conference will feature speeches and presentations from the Acesse Executive Team including: Founder Steve Renner, President Bob Kinsella, CTO James Wong, CFO Amy Ayd, Top Sales Leader Annie Zhang, and many more.
Attendees can enjoy meeting with Acesse's Executive Team face-to-face while networking with some of Acesse's Top Sales Leaders. Leaders from all around the world will attend Acesse's biggest event of the year; gain and trade marketing and advertising tips with the most successful people at Acesse. Attendees will go home with the tools they need to expand their businesses.
The Annual Acesse Las Vegas Conference is proud to announce its partnership with the Bellagio Hotel for 2013. The Bellagio Hotel is Las Vegas' most inviting luxury hotel and casino; it's famous for its world renowned dancing fountains and its Mediterranean-infused architecture and design. The Bellagio is the perfect venue for Acesse's biggest event of the year.
Tickets are currently on sale in Acesse Marketing's back office; you can login or sign-up to purchase tickets. Further details of keynote speakers, new product introductions, and entertainment will be available at a later date. Acesse's Executive Team is working diligently to provide a one-of-a-kind occasion for its members and leaders around the world.
Acesse.com is a division of Acesse Corporation, and is registered under the laws of the state of Nevada, USA. Acesse.com provides search, advertising, and marketing services to small businesses and individuals around the world.