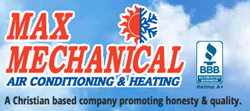 You have to put your customer's interest first. Not many companies are willing to do that these days.
Arlington, Texas (PRWEB) August 08, 2013
Max Mechanical Air Conditioning & Heating, an Arlington air conditioning repair company, has been helping individuals and businesses throughout the DFW area to actually make money from a new air conditioning installation. For years they have designed air conditioning systems for their customers that have dropped their electric bill more than their monthly payment (when financed). Literally, people are making monthly profits by installing a new energy efficient air conditioning unit from Max Mechanical.
"We've done this for hundreds of homes in the DFW area for about 8 years now," said Gary Singleton, President of Max Mechanical. "It just makes sense. It makes me wonder why everyone hasn't asked us to do this for them at their home."
"We just decided one day we need to figure out a way to make our a/c service more valuable to homeowners across the DFW area. So we figured out a way to offer a system design that would not cost the homeowner any money out of pocket, and in many cases actually make a monthly net profit for the homeowner," says Singleton. "How can you go wrong doing that for your customers?"
Well today, Max Mechanical is taking that idea to a much broader scale to include businesses. It requires an entirely different thought process than your typical a/c mindset of just charging to repair a broken a/c unit. Max Mechanical now goes into a commercial project looking at how they can make the client's company more profitable and problem free.
Recently Max Mechanical has taken on a large soft drink bottling plant in Dallas-Fort Worth who was losing expensive equipment due to various HVAC and exhaust issues. Max Mechanical was able to engineer an alternate cooling method for some of their equipment that costs half as much as it would have cost to repair the equipment. Plus the new equipment will be more reliable, will give us redundancy, and will lower our maintenance costs.
"This is a very large facility," Singleton states. "We had to literally spend weeks learning how their entire facility works and operates at no charge to the client."
This process allowed Max Mechanical to properly devise a game plan and proposal that would solve their customer's current problems and pay for itself at the same time. The company indicated they wanted to grow and add another product line.
"So we felt like we had to help them do this. The bottom line for us, if a repair vendor can solve your problems and help your business grow, why would you ever call another a/c company?"
"No one else ever attempted to do this for us," states Jason. "The other guys just wanted to keep charging for repairs. This will save us a fortune as well as make us more productive" he says.
"You have to put your customer's interest first. Not many companies are willing to do that these days, "Singleton states." This often means many hours of working for free to earn someone's business and trust".
The HVAC technicians at Max Mechanical are far more than just a/c repair guys. They have trained them to think like engineers and become problem solvers to find ways to make their services help a company grow and become more profitable. Repair skills is a MINIMUM skill requirement at Max Mechanical.
Max Mechanical Air Conditioning & Heating has been serving the Dallas / Fort Worth area since 1994. Over the last 19 years, Max Mechanical has grown into one of the most reputable residential and commercial air conditioning companies in Arlington, TX. Max Mechanical is a Christian based company that is an accredited business member of the Better Business Bureau with an A+ rating. Call 817-459-4100 to discuss how we can save you money on your next air conditioning system.