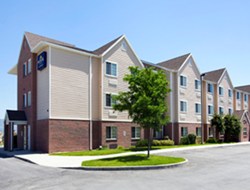 If we can provide parking solutions that make life easy for them.....then we will consider our job well done.
Salt Lake City, UT (PRWEB) August 09, 2013
Greenbee Parking, a fast growing airport parking solutions firm, has just announced a range of innovative parking options for travelers using the busy Salt Lake City (SLC) airport. All parking solutions also bring with them amazingly cheap Salt Lake City airport parking rates which means travelers will have dual benefits by opting for Greenbee Parking – it will be easier for them to find guaranteed parking rates and they can do so at much cheaper fees which will definitely add to their savings. Salt Lake City is known as the vacationer's paradise which attracts tourists in hordes with its stunning vistas of mountains and lakes in summer and great ski slopes in winter. It is the populous city in the state of Utah and a major business hub. All in all, it sees a heavy volume of air traffic round the year, with both business and leisure travelers flocking to the city. It is not a surprise that in the face of such staggering figures, authorities have been struggling to provide adequate airport parking leading to rising discontent among travelers. With Greenbee Parking in the picture the situation looks promising.
"For us, the most important thing is customer comfort," said Christine Cooper – Marketing Coordinator, Greenbee Parking. "If we can provide parking solutions that make life easy for them, provides them with the utmost comfort and completely erases the usual trauma of airport parking from their minds then we will consider our job well done. We focus on providing all these at cheap Salt Lake City airport parking rates which automatically lead to high levels of customer satisfaction."
Salt Lake City International Airport Parking Information
Salt Lake City International Airport is the 21st busiest airport in the US in terms of passenger footfalls. It ranks as the 15th busiest in the US and 24th in the world in terms of airline operations. There are about 650 departures and arrivals per day to almost 90 destinations around the world and the US. It is a civil-military airport which is also a major hub for carriers like Delta, Southwest, United, American Eagle and American Airlines among others. Keeping up with the busy flight schedules, Salt Lake City International Airport authorities are well-known for their focus and professionalism which has led to the airport's number one ranking for on time departures and arrivals in 2012. Despite their continuous efforts however, coughing up more and affordable parking space has been quite a task for them. For this reason, travelers and authorities alike have welcome service providers like Greenbee Parking who now offer a wide range of ready to avail parking options at very cheap Salt Lake City airport parking rates.
The Greenbee Airport Parking Solution
Greenbeeparking.com is the connection between consumers and parking vacancies in close proximity to major airports and seaports. The parking spaces are very affordable because the company has negotiated discounted rates with major hotel chains for the parking spaces that are not currently occupied. Here's how it works.
Greenbee Parking puts the available inventory of parking spaces on their website to be reserved by business and leisure travelers looking for cheap airport parking. This alternative method for finding parking equates to significant savings for the traveler.
About Greenbee Parking
Greenbee Parking is the nation's most innovative long term parking company, with a new way of making long term parking affordable. The company is rapidly adding new airports to its network.