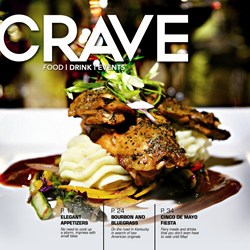 Frederick, MD (PRWEB) August 01, 2013
CRAVE magazine, featuring the best in regional food, drink and related events, will premiere this Fall. CRAVE will profile area restaurants, bars and events in Frederick County and Washington County, as well as Shepherdstown, W.Va. and Chambersburg, Pa. CRAVE offers sophisticated design, stunning photography and engaging content for residents and visitors to the area who enjoy entertainment, nightlife and dining out. The magazine will highlight more than 50 area restaurants, both in a sleek annual print magazine and online — with a companion website and mobile guide featuring expanded content such as full menu listings, a calendar of events, blog, and restaurant locator maps.
CRAVE will premiere by Nov. 1, 2013. The free annual guide will be distributed to subscribers of Frederick and Hagerstown magazines and to key area locations. Visit the CRAVE Facebook page for special offers, promotions and events. http://www.facebook.com/CraveFoodDrinkEvents
CRAVE will be published by Paradigm Publications LLC, a joint venture of Diversions Publications and RidgeRunner Publishing, LLC. The new entity will also be producing Bliss, a bridal magazine and member-based website similar to a regional version of The Knot at http://www.blissBride.NET. "The formation of Paradigm Publications offers a way for us to collaborate on our two hottest regional magazines," says Kate Rader, Owner of RidgeRunner Publishing. "We are really excited to work with Kate and her team to enter the bridal marketplace, as well as take our well-known Menu guide to the next level with CRAVE, " says Shawn Dewees, Co-owner of Diversions. These unique publications will be the definitive guides, with a unique digital presence that will leverage the strong history of both publishing firms.
For more information regarding advertising opportunities with CRAVE or Bliss — in Frederick and Montgomery counties, call 301-662-8171, in Washington County, WVa. or Pa. call 240-313-3940 — or visit http://www.cravefoodanddrink.com and http://www.blissBride.NET. Find us on Facebook at http://www.facebook.com/CraveFoodDrinkEvents and click "like" to be invited to exclusive events in the coming months.
# # #
Paradigm Publications, LLC presents niche print and online magazines targeting Central Western Maryland and its bordering cities. Paradigm publishes CRAVE and Bliss magazines, with plans to expand in the coming year. The publishing firm is a joint venture of Diversions Publications, which publishes Frederick magazine and the City County Guide and RidgeRunner Publishing, LLC, which publishes Hagerstown magazine, HM@Home and DueNorth: The Best of Franklin County, Pa.