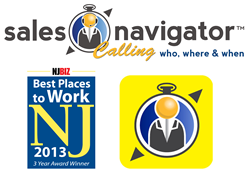 Our users are very excited because there is no need to switch between apps and devices, a simple tap is all that is needed to instantly call your contacts while planning your day in Sales Navigator."
Parsippany, NJ (PRWEB) August 06, 2013
The Casey Group, a provider of custom business and technology solutions, today announced that its award winning Sales Navigator iPad mobility application now provides in app calling. Sales Navigator, which was named a Top 10 App at the 2013 CES, now includes Sales Navigator Calling among its already robust set of features. Sales Navigator Calling enables users to simply tap their iPad screens and make outbound calls to their contacts in the United States and Canada. More countries will be added in the future, as Sales Navigator has been adopted as a vital sales planning tool by sales reps in 90 countries around the world.
Based on customer feedback that said users wanted a more convenient way to call their contacts while planning and scheduling sales trips and meetings in Sales Navigator, Sales Navigator Calling provides that convenience along with other user benefits that increase productivity. Specifically, all calls can be automatically logged with date, time, and duration for each individual contact. This simplifies record keeping and users can be confident in knowing when they called and the frequency of calls made to each of their contacts. Sales Navigator Calling is available in flexible pricing plans starting as low as $4.95 with plans designed to meet individual and enterprise needs.
Richard Casey, Chairman and CEO of The Casey Group, in commenting on the addition of Sales Navigator Calling to the feature set of Sales Navigator remarked, "We listened to our customers and this makes the app even more convenient and increases productivity. Our users are very excited because there is no need to switch between apps and devices, a simple tap is all that is needed to instantly call their contacts while planning their day in Sales Navigator."
To experience how easy calling is, Sales Navigator users are able to try a free 5 minute call by tapping the gear icon on the lower toolbar and then selecting "Free 5 Minute Call." Additionally, the "Learn More" button on that same screen will link users to the Sales Navigator website for more information and account sign up options.
Sales Navigator is the most comprehensive mobility sales tool for the iPad and iPhone. Available for free download in the iTunes App Store, Sales Navigator provides a geospatial view of customers, prospects and daily sales schedule. Users can easily import their CRM data into Sales Navigator to begin visualizing their sales day and interacting with their customers and prospects on maps.
Sales Navigator enables users to utilize targeted geographic planning with their data as never before. Whether it is discovering nearby opportunities, mapping optimal sales routes and/or managing time and territories more effectively, Sales Navigator's goal is simple, to help its clients do more with their time so they can sell more.
About The Casey Group
In business the company behind the app is as important as the app itself.
The Casey Group is an award winning company and a provider of custom business and technology solutions since 1989. Clients have the comfort of knowing that Sales Navigator is powered by a multi-disciplinary team of IT specialists with a breadth of experience. The Casey Group's team is capable of integrating and customizing Sales Navigator with clients' existing back-office systems on a variety of platforms including Linux, mainframe, Windows and AS400.
The Casey Group has an award winning corporate culture and customer first mindset as evidenced by it being named one of the Best Places to Work In NJ for the last three consecutive years (2011-2013). The Casey Group is a Microsoft Certified and IBM Advanced Business Partner and an active member of the Morris County NJ Chamber of Commerce.