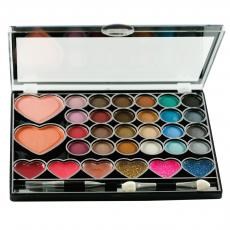 We are receiving a tremendous response from our customers who have bought the mini makeup kits.
Los Angeles, CA (PRWEB) August 02, 2013
Lady de Cosmetic, one of the largest online cosmetics retailers, is proud to announce the addition of mini makeup kits to its line of beauty products. The makeup kits, which include brushes, are now available in mini, portable sizes and are ideal for travel or for women on the go. The cosmetics included in the makeup kits offered by Lady de Cosmetic are also available in various shapes, including hearts, making them a popular gift item for customers.
Although small in size, the new mini makeup kits from Lady de Cosmetic all include at least 30 unique products. Included in the various kits are multiple shades of eyeshadow, lipstick, lip gloss, blush, pressed powder, and application brushes. Some of the makeup kits also include nail polish, toe separators and a convenient carrying case.
The makeup kits are available as "day" kits or "night" kits, and are designed to be easily transported and to fit in small handbags. More importantly, according to Daniel D., General Manager of Lady de Cosmetic, "These makeup kits are an incredible value. The variety of looks that can be created using our mini makeup kits is unlimited."
Like all products sold by Lady de Cosmetic, the makeup kits are priced to be affordable to everyone.
"We are receiving a tremendous response from our customers who have bought the mini makeup kits," says Mr. D. "They are delighted with the convenience of them, and amazed by the low price. We are hard at work bringing even more makeup kits to our product line, and I am happy to announce that we will be adding additional colors and styles in the coming months."