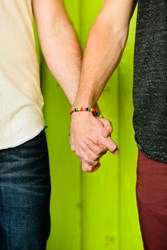 People who are in same-sex marriage...deserve the same zealous representation
San Diego, California (PRWEB) August 01, 2013
The San Diego family law attorneys at the Men's Legal Center have been representing clients who have been facing California family law issues including divorce, child custody, child support, property division, high-asset divorce and military divorce among many others for over 27 years. Given the recent legal developments regarding same-sex marriage in California and the fact that it has been recognized in the state as legal, the attorneys at the firm hereby announce that they are scheduling initial consultations with potential clients who have encountered the need to pursue same-sex divorce cases.
Recent California Supreme Court decision regarding California Proposition 8, which banned same-sex marriages in California in 2008, have lifted that ban and now allow couples who are members of the same sex to marry once again. However, this also means that same-sex couples can now legally pursue divorce. Since same-sex couples are now largely granted the same legal rights and statuses as heterosexual couples, those same-sex couples have every right to pursue divorces if they feel that their marriages are not working out.
"The law, as it stands now, is that same-sex couples in California can get married. Therefore, people who are in same-sex marriages and who feel the need to end those marriages deserve the same zealous representation as anyone else who has sought a divorce over the years," said Craig Candelore, the founding attorney at the Men's Legal Center. "We provide the same initial feedback to spouses involved in same-sex marriages as we do to our heterosexual clients – do what is necessary to protect your legal right if your marriage is going to end," Candelore added.
Anyone who is currently involved in a same-sex marriage and who has decided that it's time to bring about an end to that marriage is encouraged to contact the Men's Legal Center to schedule an initial consultation with one of their attorneys.
About the Men's Legal Center
The Men's Legal Center is a law firm comprised of San Diego divorce lawyers who have been representing clients facing California family law issues that include divorce, support controversies, property division inquiries and custody challenges. The firm has attorneys on hand who have extensive military experience; and therefore, provide representation to those who face military divorce issues and other family law situations while they are members of the military.