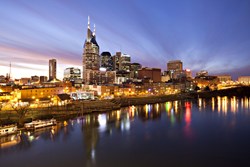 "The first thing about this experience is that comfort does not have to be expensive."
Nashville,TN (PRWEB) August 12, 2013
Greenbee Parking, a fast growing airport parking solutions company, has just announced that Wingate by Wyndham will be their preferred hotel partner in Nashville. The heart of the music capital in America sees a heavy footfall of tourists, both musically inclined and otherwise, round the year. Nashville is also a seat for many major MNCs, leading to a high percentage of business travelers flying in and out of the Nashville (BNA) airport annually. With this partnership in place, Greenbee Parking can now offer their customers a wide range of parking solutions which will include secure and affordable parking, even when booked in the last minute. These discounted Nashville Airport parking rates are a benefit for frequent fliers who do not like to leave their cars behind at the airport parking lots and hate battling with the airport traffic at the last minute. Instead of these recurring hassles they can simply drive up to Wingate by Wyndham and leave their cars at the facility and take the shuttle to the airport. There is no need for customers to book a room here to get a great parking space. All they need is to go online and book one through the Greenbee Parking website and get one at amazingly low rate.
"We want our customers to feel the ultimate Greenbee Parking experience," said Christine Cooper – Marketing Coordinator, Greenbee Parking. "The first thing about this experience is that comfort does not have to be expensive. The second unique Greenbee experience is the wide scope and innovation of parking options available which are designed to suit all kinds of clients and their vehicles. Now our Nashville customers can experience this Greenbee edge and that too at incredibly low parking rates near the Nashville Airport."
Nashville International Airport Parking Information
Nashville International Airport is the 34th busiest airport in the country in terms of passenger footfalls. The airport is open for both public and military use and has the Berry Field Air National Guard Base located here. The airport serves not just the Nashville area but also southern Kentucky, almost 79 counties in Middle Tennessee as well as northern Alabama. It is a major hub for both Southwest Airlines and American Airlines. With a sq. ft. coverage area of over 1,000,000, BNA has 47 carrier gates with non-stop flights connecting to hundred destinations, both domestic and international. May 2013 recorded over 950,000 passenger footfalls showing how busy the airport keeps round the year. Parking is a huge issue for all travelers and more with frequent fliers. Thankfully, there are now service providers like Greenbee Parking who offer wide parking options at great Nashville Airport parking rates. With great and innovative solutions like the partnership with Wingate by Wyndham which allows secure off-airport parking, Greenbee Parking is all poised to lead the airport parking industry here in Nashville.
The Greenbee Airport Parking Solution
Greenbeeparking.com is the connection between consumers and parking vacancies in close proximity to major airports and seaports. The parking spaces are very affordable because the company has negotiated discounted rates with major hotel chains for the parking spaces that are not currently occupied. Here's how it works.
Greenbee Parking puts the available inventory of parking spaces on their website to be reserved by business and leisure travelers looking for cheap airport parking. This alternative method for finding parking equates to significant savings for the traveler. These savings are sometimes as much as 75% less than parking at the airport or seaport.
About Greenbee Parking
Greenbee Parking is the nation's most innovative long term parking company, with a new way of making long term parking affordable. The company is rapidly adding new airports to its network.