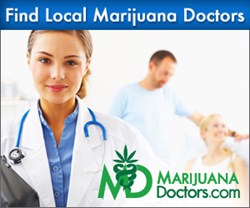 "As part of a marketing outreach to the Pacific Northwest, MarijuanaDoctors has come up completely successful in being able to provide patients with a legitimate clinic to alleviate their symptoms." -John Nicolazzo, C.O.O. of MarijuanaDoctors
(PRWEB) August 22, 2013
Green Wellness of Bellingham is a medical marijuana healthcare location that is situated in the lovely city of Bellingham, Washington. For the last couple of years this location has been providing Measure 692 Washington medical marijuana patients with the most efficient services in alternative healthcare, all while making sure patients are effectively alleviating or reducing any symptoms of a chronic or debilitating condition. Until this very day, Green Wellness of Bellingham remains part of a bigger picture that is responsible for servicing thousands upon thousands of patients on a yearly basis.
Aside from featuring some extensive medical practices such as health education, lifestyle coaching and naturopathic medicine, Green Wellness of Bellingham is a go-to destination for inquiring and current medical marijuana patients in the state of Washington. This location specializes within all alternative medicine practices such as thorough and comprehensive medical marijuana evaluations, legitimate and legally-recognized medical marijuana recommendations and some of the most bona fide medical marijuana certifications. Please note that all of the aforementioned services are carried out by Green Wellness of Bellingham's licensed medical practitioner who has years and years of in-industry experience.
Aside from featuring a licensed medical practitioner that can help patients achieve a great well-being, Green Wellness of Bellingham also features an on-hand staff of nurse practitioners who are the most intelligent and caring individuals. Each and every staff members is ready to dedicate time and energy to addressing each and every patient's specific needs. Staff members are also made readily available to help patients with any of the processes of filing and submitting the necessary documentation to receive a Washington medical marijuana card. With Green Wellness of Bellingham, patients are always first and foremost.
Located right in the heart of a community that is perfectly nestled between the mountains of the Pacific Northwest and the Pacific Ocean, Bellingham is by far a cultural and economic center of Washington State. Boasting scenic views that are uniquely picturesque, Bellingham presents to visitors and residents alike an area of rich variety and diversity. Whether an individual is set on completing a recreational activity, cultural experience, educational broadening or an economic leisurely activity, Bellingham has something for everyone. If personally looking for a Washington medical marijuana card and in the Bellingham area, come on down to Green Wellness of Bellingham and achieve maximum wellness.
As is the case with all of the MarijuanaDoctors additions to the Medical Cannabis Network, Green Wellness of Bellingham has gone through an extensive background check that is meant to ensure patients a sense of extreme efficiency and absolutely no grey area. In an effort to legitimize the industry, MarijuanaDoctors continues to make strides towards providing patients everywhere with a reputable and professionally licensed medical marijuana doctor. John Nicolazzo, C.O.O. of MarijuanaDoctors said, "We are honored to add Green Wellness of Bellingham to our already bolstered network of reputable medical marijuana physicians. As part of a marketing outreach to the Pacific Northwest, MarijuanaDoctors has come up completely successful in being able to provide patients with a legitimate clinic to alleviate their symptoms."