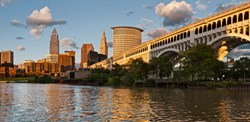 "Our deals are designed to provide maximum benefits for our customers."
Cleveland, OH (PRWEB) August 13, 2013
Greenbee Parking, one of the fastest growing airport parking solutions company in the country, has just announced a series of new deals and offers for travelers regularly using the busy Cleveland (CLE) airport. Availing these deals would not only mean great new options to park their cars easily but also at very discounted rates which can beat all other Cleveland airport parking coupons and similar offers hands down. Cleveland is known for being a business hub as well as one of the top medical destinations in the country. These along with the usual tourist flow mean that the air traffic is heavy round the year, which in turn leads to heavy ground traffic flow. Shortage of parking space has led to a steep rise in rates which has been an additional burden on travel budgets here, especially for frequent fliers. Now, with service providers like Greenbee Parking, travelers can stop worrying about getting a parking space or easily paying for one. The varied deals and offers make sure that everyone can benefit from them, whether they want a long or short term deal or even a one-time parking spot.
"Our deals are designed to provide maximum benefits for our customers," said Christine Cooper – Marketing Coordinator, Greenbee Parking. "We spend a lot of time studying the typical nuances and related statistics of an airport so that we can create a comprehensive deal for our customers. With our parking options we can cover all kinds of parking needs at CLE, negating the need for Cleveland airport parking coupons completely."
Cleveland Hopkins International Airport Parking Information
Cleveland Hopkins International Airport is the largest airport in the state of Ohio, and is first municipal airport in the United States. It has a long and rich heritage of customer service which both the airport and the municipal authorities are very proud of. The airport is strategically located very close to the central business district of Cleveland and serves the city of Cleveland along with the surrounding counties. CLE is also one of the first US airports to be connected to the local rail transit system (1968) which means that public transport options have been a constant focus for the authorities. Despite that and the many improvements made to the airport and its parking, there still remains a huge gap between the demand and availability of parking space. But now help is on hand with dynamic young service providers like Greenbee Parking who have come up with a wide range of innovative parking solutions for travelers using Cleveland (CLE) airport. And that too at rates that not just compete but easily beat all Cleveland airport parking coupons as well as other competitive offers.
The Greenbee Airport Parking Solution
Greenbee Parking has effectively bridged the gap between parking problems and solutions at both airports and major seaports. They have tied up with major hotels for available parking spaces at discounted rates which they offer their customers across the nation who can now save up to almost 75% of their parking costs.
All they need to do is visit Greenbee Parking, select their city or airport of choice, choose the parking spot and pay through a secured payment gateway. There is a comprehensive list of airports and parking spots to choose from. Greenbee's wide network makes it possible for every customer who logs in to find a solution.
About Greenbee Parking
Greenbee Parking is the nation's most innovative long term parking company, with a new way of making long term parking affordable. The company is rapidly adding new airports to its network.