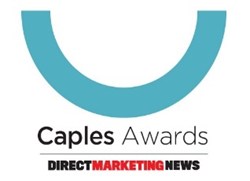 New York, NY (PRWEB) August 01, 2013
The international flavor at the Caples Awards is palpable in the work and represented in the truly diverse makeup of our judges. We've got top creative directors from agencies across the globe.
The 2013 jury is no exception, with nearly 50 senior-level creative directors from countries as diverse as New Zealand, Germany, Australia, Spain, the United States, England, Austria, Canada, and more.
Hosted by Direct Marketing News, the Caples Awards honors the best and most original interactive, digital, integrated, and direct marketing creative from around the world in 25+ categories—everything from email, content, and social media, to the most courageous client of the year.
This year's Caples will put an added emphasis on the Courageous Client Award—an established Caples category, to honor those who boldly venture into the unexplored and achieve the unexpected.
Judges will convene in NYC for two intense days of closed-door judging, followed by a public reveal on November 14 where the winners will be announced as attendees sip cocktails and have the chance to browse the best work this side of anywhere.
"Creating courageous work requires the trust and respect between client and agency—a magical formula," says Gary Scheiner, Caples judging chair. "But recognizing courageous work takes the keen eye of creative leaders who can separate the fearless from the brave. That is precisely what we have assembled with our 2013 jury. I am immensely excited to watch them battle and debate as they find this year's examples of courage and creativity."
This year's jury includes:

Mitch Alison, Creative Director, Saatchi & Saatchi
Wayne Pick, Executive Creative Director, SVP, RAPP New York
Kim Pick, Executive Creative Director, RAPP New York
Frédéric De Vries, Creative Director, Interactive / Head Interactive Concepts, Duval Guillaume Modem
Rene Eugster, Creative Director/Owner, Agentur am Flughafen
Nancy Harhut, Chief Creative Officer, Wilde Agency
Jonas Lembke, Creative Director, DGAC/BBDO Proximity
George Lepore, Group Creative Director, Rosetta
Andre Rabanea, Creative Ideator, Torke+cc
Roger Reugger, Executive Creative Director, Publicis
Matt Batten, Chief Creative Officer, Wunderman
Peter Bidenko, Regional Executive Creative Director, Leo Burnett
Stay up to date with the most current list of judges for Caples 2013.
Interested in being a member of the star-studded judging panel? Submit your application to be a Caples judge here.
For more information, contact Nicole Marshall at nicole.marshall(at)dmnews(dot)com, (646) 638-6059, or visit caples.org.
For sponsorship information, contact Greg Zalka: greg.zalka(at)dmnews(dot)com or 646-638-6027.
About Caples Awards. Founded in 1978, in honor of the renowned copywriter Andy Caples, Caples Awards continues to celebrate the boldest, most creative marketing strategies from agencies from all around the world. It is owned and operated by Direct Marketing News, a Haymarket Media brand.
About Direct Marketing News. Direct Marketing News is the leading publication in all things marketing, and is the go-to resource for marketers seeking to keep on top of the latest industry news, hottest strategies across multiple channels, and best tactics to propel campaign ROI. Our print and digital content reaches a BPA-audited circulation of more than 150,000 top-level marketing professionals.