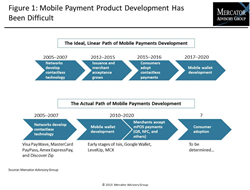 "Tech companies are challenging issuers' core business at a time when competition among existing industry participants is extremely high
Boston, MA (PRWEB) August 01, 2013
The major card networks began supporting contactless payments nearly a decade ago, but consumer and merchant adoption has lagged considerably. Several startups, as well as established firms outside of the financial services industry, are marketing enhanced mobile payment services capable of causing significant disruption to the consumer payments value chain.
Mobile operating system developers, handset manufacturers, and mobile network operators are among the first to market with mobile wallets, but traditional IT suppliers to financial institutions are starting to develop solutions to help banks respond. The largest U.S. credit card issuers are investing, piloting, or otherwise exploring several mobile payment options to make sure they can quickly implement the technology that is most widely adopted. Mercator Advisory Group's most recent research report, Mobile Payments: Opportunities and Strategies for Credit Issuers, provides a framework for understanding the current and potential impact of mobile payments technology on the credit issuing business.
"Tech companies are challenging issuers' core business at a time when competition among existing industry participants is extremely high," comments Michael Misasi, senior analyst at Mercator Advisory Group and author of the report. "Issuers are rightly protective of their transaction data and cardholder relationships. Fortunately, financial institutions have several strategic assets that can minimize the threat of disruption."
Highlights of the report include:

Mercator Advisory Group's latest statistics on consumer adoption of various mobile payment technologies
A credit issuer-centric SWOT analysis of the mobile payments industry
An overview of the most prominent mobile wallet providers including ISIS, Google Wallet, Starbucks, and MCX
A prediction of how the next round of mobile wallet products is likely to operate
This report contains 24 pages and 7 exhibits.
Companies mentioned in this report include: AT&T, Bank of America, Citibank, Device Fidelity, FIS, Fiserv, Gemalto, Google, HTC, ISIS, JPMorgan Chase, LG, MasterCard, MCX, Paydiant, U.S. Bank, Samsung, Sprint, Starbucks, T-Mobile, Vantiv, Verizon, Visa, Wells Fargo.
Members of Mercator Advisory Group's Credit Advisory Service have access to these reports as well as the upcoming research for the year ahead, presentations, analyst access, and other membership benefits.
For more information and media inquiries, please call Mercator Advisory Group's main line: (781) 419-1700, send e-mail to info(at)mercatoradvisorygroup(dot)com.
For free industry news, opinions, research, company information and more visit us at http://www.PaymentsJournal.com.
Follow us on Twitter @ http://twitter.com/MercatorAdvisor.
About Mercator Advisory Group
Mercator Advisory Group is the leading, independent research and advisory services firm exclusively focused on the payments and banking industries. We deliver pragmatic and timely research and advice designed to help our clients uncover the most lucrative opportunities to maximize revenue growth and contain costs. Our clients range from the world's largest payment issuers, acquirers, processors, merchants and associations to leading technology providers and investors. Mercator Advisory Group is also the publisher of the online payments and banking news and information portal PaymentsJournal.com.