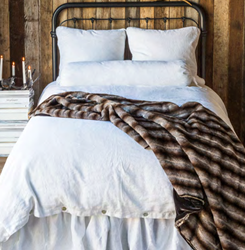 A wonderful cinder gray fur backed in silk velvet
Metairie, LA (PRWEB) August 02, 2013
The Garden Gates recently added the latest collections from Bella Notte Linens. One of these fabrics, Empress, is a wonderful cinder gray faux fur backed in silk velvet. These luxurious bedding accessories with an incredible hand and drape will add drama and style to any bedroom for a rich look and gorgeous feel. Bella Notte Linens is an eco-chic bedding company that using sustainable and responsible materials and sources to create luxury linens. All Bella Notte Linens product are custom and made to order. The Garden Gates' team is pleased to add the Empress collection to their already extensive line of luxury bedding online.
For more information please visit http://www.thegardengates.com or call 1-877-780-6699.
About The Garden Gates:
The Garden Gates was founded by Jacqueline Elizabeth Kendall-Harris and Chad Harris in 1999. Jacqueline plays an instrumental role in product development, interior design and in developing core principles of The Garden Gates lifestyle. Chad plays an instrumental role in the creativity of the brand, marketing and technology of the business.
Photo courtesy of Bella Notte Linens.