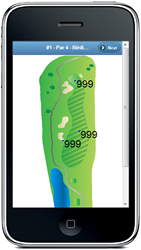 Finally an app that just works on all devices.
Scottsdale, AZ (PRWEB) August 01, 2013
Embracing technology has long been a challenge in the golf industry. Let's face it - mobile devices are here to stay. The sooner golf courses embrace this concept, the sooner they can realize the built-in advantages of mobile technology. The new Birdie Apps Golf GPS App for Golf Courses provides course managers with a powerful new marketing tool in the form of a state-of-the-art course app for their golfers' smartphones, with optional in-cart solutions as well. The App will build a rich profile of their customers over time and a valuable list of qualified email contacts for ongoing marketing efforts. Golfers will experience a user-friendly GPS with detailed maps, pinpoint accuracy and a user-friendly interface. Together, these features make Birdie Apps a tremendous value for golfers and a compelling offer for courses. Lookout for Birdie Apps flying onto a golf course near you soon.
About Birdie Apps
Birdie Apps provides custom branded HTML5 golf GPS apps that work on all modern phones and tablets.
For more information, visit http://birdieapps.com.