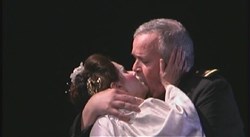 It is passion that drives the force of Otello's demise
Warren, NJ (PRWEB) August 01, 2013
Often called Shakespeare's most intimate tragedy, Otello's empire is not of great territories lost and won, nor of refined courtly gestures. The nuptual bed and not the seat of power draws the passion. Otello, an esteemed general in the service of Venice and a Moor, has recently wed Desdemona, the daughter of a senator. When he promotes Cassio to be his lieutenant, the ambitious Iago is enraged. Otello aspires to belong to Desdemona's world and instead becomes victim to its racism and his own horrific terrors. "It is passion that drives the force of Otello's demise. The love between Otello and Desdemonia is so intense that Otello can't believe it is real. Unbridled love turns to hate when doubt and suspicion are thrown into the mix," comments director Lewis. "And although we know Otello is respected as a great warrior, there is bigotry in this world. He is an outsider—and that affects him emotionally."
Otello will be conducted by the international maestro, Dr. Robert Butts, Ph.D. who is no stranger to opera and is the only conductor to have conducted three Wagner Ring Operas (Die Walküre, Das Rheingold, Siegfried) in New Jersey. Dr. Butts is also the only conductor to have led three Handel operas (Acis and Galatea, Semele, Giulio Cesare) in New Jersey. He has conducted premieres of over a dozen works for large and small ensemble. Dr. Butts has appeared with orchestras in the United States and Europe, including the Berlin Sinfonietta in Berlin, Germany; the Congress Orchestra in St. Petersburg, Russia; Opera Constanta in Romania; Bohuslav Martinu Orchestra in the Czech Republic; and other ensembles in Eastern Europe.
The title role of Otello will be sung by Peter Lewis (August 11, 17) and John Tedeschi (August 16, 18). Lewis recently sang Pinkerton in Madama Butterfly, Eastern Opera's premier opera performed in May of this year. After appearing as an Apprentice Artist with Santa Fe Opera, Lewis performed numerous roles in CA with West Bay Opera, Monterey Opera, Livermore Valley Opera, Pocket Opera of San Francisco, and Santa Cruz Bay City Opera. Lewis, a seasoned performer, has received accolades for his many performances of leading tenor roles in La Traviata, La Boheme, I Pagliacci, Tosca, Carmen as well as cross-section of various opera genres. Lewis also performed the works of Sigmund Romberg and Rudolf Friml in concerts at the Smithsonian Institution in D.C. Lewis is a resident of Warren, NJ.
John Tedeschi is most recognized for his captivating stage presence and endearing acting coupled with a ringing tenor instrument. Tedeschi has performed with: Opera Theater of Connecticut, Osh Opera, New Britain Symphony, Wichita Grand Opera, New Orleans Opera and Center City Opera. Tedeschi performed Pinkerton in the U.S. premiere of Butterfly's Trouble, a re-telling of Puccini's MADAMA BUTTERFLY from the perspective of the grown-up son, Trouble. Figand Flan of Theatermania wrote: "He sang beautifully… (his) Pinkerton is one of the best we have seen, and he brings real life to a character we usually see at a distance. He also hints effectively at all the reasons we should dislike Pinkerton while simultaneously maintaining a rosy demeanor." Tedeschi currently resides in Brooklyn, NY.
Many scholars and critics have noted that Arrigo Boito, Otello's librettist, pulled Verdi out of a comfortable retirement when he presented him with his compelling libretto. Otello has been a success since the premiere in 1887. The collaborative work seizes four captivating scenes from Shakespeare's play Othello and reduces several characters which allowed Verdi to fully develop the leading three characters: Otello, Desdemona and Iago. The libretto gave Verdi plenty to work with because of the work's malevolent evil, sexual jealousy, murder and suicide. Verdi's Otello has all the elements of a modern musical drama.
The opera is set in a city on the island of Cyprus, near the end of the 15th century. Otello is the acting Governor of Cyprus and returns from a victorious battle to his loving wife, Desdemona. Iago, Otello's ensign, hates Otello and weaves a treacherous web of deception that begins by defaming Cassio, Otello's second in command, thus resulting in Cassio's dismissal. While being observed by Otello, Cassio asks Desdemona to speak on his behalf. Iago plants the seed convincing Otello that Desdemona has been unfaithful and convinces him that both she and Cassio must be killed. Otello kills Desdemona believing that Cassio has also been killed. Upon discovering that Iago was the instigator and that Desdemona was innocent, Otello takes his own life.
Eastern Opera Corp. is a nonprofit corporation organized and operated exclusively for charitable purposes. Specifically, Eastern Opera has been formed to encourage and instruct individuals for the purpose of improving and developing their capabilities, to educate the public on subjects useful to the individual and beneficial to the community, and to promote the arts and culture to the local communities. The first opera performance, Puccini's Madama Butterfly (May, 2013) was met with standing ovations. For more information contact Lou Kersey at loukersey(at)easternopera(dot)org or visit http://www.easternopera.org.