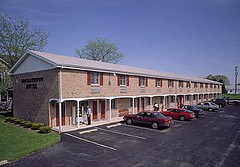 We are constantly looking for new ideas so that we can design new and innovative parking options for all our customers.
Harrisburg, PA (PRWEB) August 15, 2013
Greenbee Parking, a leading airport parking service provider, has once again managed to both amaze and delight their customers with a series of new deals to make airport parking easy at Harrisburg, PA. They made this announcement through their latest website upgrade which not only displayed the series of deals but also the attached low Harrisburg airport parking rates with each of them. Greenbee Parking stormed into the industry with cheap deals and easy booking options and has since then managed to stay ahead of the race with the introduction of innovative offers from time to time. Their latest announcement for travelers using the busy Harrisburg (MDT) airport ensure that both long and short term parking options offer maximum comfort and the best of savings.
"We are constantly looking for new ideas so that we can design new and innovative parking options for all our customers," said Christine Cooper, Marketing Coordinator, Greenbee Parking. "For every airport, we do a thorough demographic study so that our deals can exactly match with the traveler requirements in a given city. We make sure that our customers benefit from these offers as well as the changes by announcing them regularly through our web upgrades just like we have done with the new Harrisburg airport parking rates. All travelers need to do is keep checking our site and take advantage of the new deals right as they open."
Harrisburg International Airport Parking Information
Harrisburg is the capital of Pennsylvania which naturally makes it the major business hub in the state. The rich American history heritage, which saw Harrisburg play an important role in the Westward Migration, the Civil War and later in the Industrial Revolution along with its surrounding natural beauty, draws in heavy volume of tourists round the year. Forbes Magazine rated Harrisburg as the second best place in the U.S. to stay and raise a family in 2010 which means that there is a two way flow in and out of the city round the year. The Harrisburg International Airport is the main commercial airport in South Central Pennsylvania and the third busiest in Pennsylvania in both freight and passenger counts.
For a mid-sized airport Harrisburg is a busy one and has been in dire need of better airport parking spaces to cater to all travelers equally well. With the advent of service providers like Greenbee Parking there are now ample parking opportunities for all kinds of vehicles and at discounted Harrisburg airport parking rates which has made airport parking affordable for all. Their latest web upgrades have announced these new rates along with a promise for better parking options for all.
The Greenbee Airport Parking Solution
Greenbeeparking.com is the connection between consumers and parking vacancies in close proximity to major airports and seaports. The parking spaces are very affordable because the company has negotiated discounted rates with major hotel chains for the parking spaces that are not currently occupied. Here's how it works.
Greenbee Parking puts the available inventory of parking spaces on their website to be reserved by business and leisure travelers looking for cheap airport parking. This alternative method for finding parking equates to significant savings for the traveler.
About Greenbee Parking
Greenbee Parking is the nation's most innovative long term parking company, with a new way of making long term parking affordable. The company is rapidly adding new airports to its network.