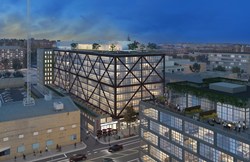 The Atlantic Plumbing residential project is a first-class development with luxury amenities and a design we're excited to build.
Falls Church, Virginia (PRWEB) August 01, 2013
HITT Contracting Inc. has been selected to construct Atlantic Plumbing, The JBG Companies new mixed-use community in the District at 8th and V Streets NW. The project includes two multifamily buildings with street front retail.
The main building, adjacent to the 930 Club on the north side of V Street, will be a 10-story, 290,000-square-foot building with 310 residential units. The second building, on the south side of V Street, will be six stories and 61,000 square feet with 64 units. Work will begin this summer and both buildings will deliver in 2015.
Atlantic Plumbing is designed by Morris Adjmi, a New York-based architect known for integrating neighborhood vibes and histories into his new buildings. This project brings a grit-meets-glam aesthetic through its striking post-industrial look. Design elements include a steel exoskeleton on the larger building, reclaimed brick, metal panels and divided lite window units. Amenities include a resort-style pool, deck and patio lounge, 22,000 square feet of ground level retail space, and a below-grade parking garage. Atlantic Plumbing will also include about 4,000 square feet dedicated as artist studios, and more than 15,000 square feet of hardscape and landscape.
"We're gearing up for this opportunity to deliver a unique, marquee project for JBG," said Jeremy Bardin, Executive Vice President of HITT Contracting Inc., who oversaw the delivery of the Bethesda North Marriott Hotel for the same developer. "The Atlantic Plumbing residential project is a first-class development with luxury amenities and a design we're excited to build. It will be a great addition to our portfolio of living spaces that stretches from Baltimore to Richmond in this region. "
"We are pleased to once again be working with HITT Contracting," said Kai Reynolds of JBG. "We are excited about Atlantic Plumbing and look forward to seeing its unique character come to life."
Design team members include architectural firms Eric Colbert & Associates and Morris Adjmi Architects; civil engineers Bowman Consulting Group; MEP Jordan & Skala Engineers; structural engineers SK&A; and GeoConcepts as the geotechnical engineers.
About The JBG Companies
Headquartered in Chevy Chase, Md., The JBG Companies is a private real estate development firm that develops, owns and manages office, residential, hotel and retail properties. The company has more than $10 billion in assets under management and development in the Washington, DC area. Since 1960, JBG has been active in the communities where it invests, striving to make a positive impact. More information can be found by visiting the company's website: http://www.JBG.com, or by calling 240.333.3600.
About HITT Contracting Inc.: Founded in 1937, HITT Contracting has grown to be ranked among today's 100 Largest General Contractors nationwide, with offices in Washington, DC, Atlanta, Baltimore, Charleston, Denver, and South Florida. Our client-focused teams fulfill any program need from a doorknob change to base building shells and complete tenant/owner fit-outs. Company-wide we maintain more than 700 employees, including a skilled in-house field force available 24/7 to support our clients long after initial occupancy. The HITT Way for quality and excellence defines the core of our mission and how we are structured. Teams are organized into expert market sectors, specializing in corporate base building and interiors, government, healthcare, hospitality, institutional, law firms, major projects, paint and service, and technology. Complementing these market sector teams are the preconstruction, sustainable construction, and subcontractor relations divisions. For more information, please visit http://www.hitt-gc.com/.