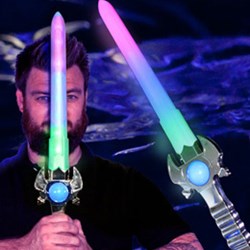 Los Angelels, CA (PRWEB) August 16, 2013
Whether for a birthday party, summer party, graduation party, Halloween party, New Years' party or other parties, glow in the dark parties are the latest craze that don't see signs of slowing down any time soon. They suit every theme and make parties more fun. Kids, teenagers and adults love glow in the dark parties. Their usage extends to any party, for any occasion and for every purpose.
Makeup, Hair and Nails
Not only is clothing used to glow in the dark, but so too is makeup. One of the hottest new trends is wearing glow in the dark makeup. Certain music artists wear vibrantly-colored makeup that glows with the use of black lights. Temporary hair dye can also change the effects of the hair. Nail polish has even taken on a whole new look with special glow in the dark formulas.
Jewelry
Light up jewelry is also very popular. Special LED necklaces flash. They're not the only piece of jewelry that flashes with light. Flashing jelly rings and bracelets can adorn the wrists of guests. Although, not traditionally regarded as jewelry, sunglasses in the form of LED shutter shades decorate the face brilliantly.
Accessories
Hot accessories light up the dance floor. In a sea of dancers, virtually every piece that lights up under the black lights or by LED provides a silhouette to an otherwise shadowed form. Glow sticks, wands and other glow in the dark party accessories are virtually the only items that light up. Other glow party novelties, such as large glowing waterproof beach balls heat up the party scene, whether used on the dance floor or pool parties. Light up party supplies, such as light-up balloons, are also a possibility to liven up any party theme.
Food and Drink
Popular food and drinks take on a whole new form during night-time parties. Use of glow in the dark champagne flutes, cups and shot glasses encourages guests to drink. Other glow in the dark items, such as plates, encourage guests to eat. There are even items, such as lighted ice buckets, which come in blue. The appeal of this ice bucket reflects blue light into the ice creating an amazing effect. If these items weren't enough, glow in the dark cutlery add to the eating experience. Glow in the dark alcohol bottle collars create bottles that glow in purple, green, orange, red and blue. In addition, an amazing liquid activating shot glass only lights up when it is filled. This encourages guests to repeatedly fill their shot glasses.
Glowsource.com, the leading source in glow in the dark party supplies, provides one-of-a-kind light up and glow products to meet the needs of any party. Glowsource.com offers bulk and wholesale prices to provide a cost-efficient approach at creating a most memorable party. Glowsource.com, established in 1999, revolutionized the party scene with "Cool Glow" drinkware and expanded their operation of glow in the dark and lighted party supplies to meet the need of increasing need of fans. From accessories to jewelry, to drinkware and more, Glowsource.com is the one-stop glow in the dark party shop.
Contact:
Glowsource.com
Whitney Callahan
(323)878-1280
whitney(at)glowsource(dot)com