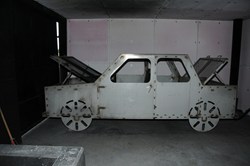 When students make a mistake, the instructor can stop the fire, give students feedback, and start again.
Vermilion, Alberta (PRWEB) August 01, 2013
Response training for building or structural fires at Lakeland College Emergency Training Centre (ETC) now involves more realistic scenarios; thanks to extensive renovations to the 7-storey fire tower at the Vermilion campus.
Piped-in propane, fire-retardant paneling and custom-made props were installed in the tower in July to simulate rooms in various kinds of residences.
Until now, fires were built by hauling in straw bales and wood pallets. But Kirk McInroy, ETC manager of technical services, explains that the wood and straw smoke often blew into the community. "We used to shut down training if it impacted the hospital or nursing home," he says.
The fires also resulted in heavy soot and extremely high heat buildup, which had begun to disintegrate the cement walls and ceilings. Now, any smoke you see at the fire tower will be artificial theatrical smoke.
ETC students learn to handle smoke before fire. They begin training by entering an enclosed structure (the smoke tower) in full gear to practice search and rescue scenarios within a zero-visibility smoke-filled environment. This is harmless, environmentally-friendly, water-based theatrical smoke.
With the fire tower renovations, response training involves more lifelike scenarios. Various rooms on the first three floors of the tower simulate apartment rooms: a kitchen, living room, bedroom, and garage. Clean burning propane is piped to each prop with the master controls at the base of the tower. Instructors use a wireless hand-held pendant inside the burn room to turn the fire on, off, or to change the size and intensity of the fire to low, medium, or high depending on how the firefighters attack the fire. Custom-made solid stainless steel props—a car, bed, couch, and stove—can ignite and burn without damage. Fire-retardant panels that simulate drywall prevent further disintegration of the tower's walls and ceilings.
McInroy points out that controlling the fires and smoke with a pendant (and backup control room) increases valuable practice experience. "When students make a mistake, the instructor can stop the fire, give students feedback, and start again. During a scenario, the students can also get caught in a simulated fire rollover—a very realistic situation." And now, each student will get more nozzle time.
The fire tower has been a landmark at the ETC for 22 years. The investment in installing propane and new props means cleaner air in Vermilion, enhanced training scenarios, and more practice time for all students.
A career in emergency services is ever-changing. The one thing you must have is a solid skill set so you can tackle the next challenge that comes your way. Lakeland College Emergency Training Centre offers short courses, certificate, and diploma programs so you have the skills to live ready. Train at your site, ours or online. Our training field in Vermilion, Alta., has towers, a dangerous goods training area and props that simulate industrial fires, vehicle extrications and more. Visit http://www.lakelandcollege.ca for details.