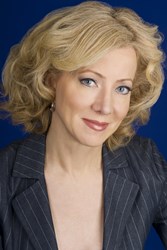 Los Angeles, CA (PRWEB) August 01, 2013
Alison Triessl, creator and CEO of the popular website and phone app, Wild About Trial, announced today that she has hired veteran trial reporter Beth Karas as senior legal analyst and contributor. Karas, formerly of Turner's CourtTV (later named In Session and TruTV,) has been a fixture of trial reporting for nearly two decades covering the most explosive cases including the trials of OJ Simpson, Conrad Murray, Casey Anthony, and most recently the Zimmerman trial.
For nearly two decades, Karas has offered insight, analysis, and on-the-spot reporting on legal stories from courthouses across the country. In a 2007 interview, Larry King called her "one of the best in the business."
"I have long admired Beth Karas. She is a brilliant legal reporter and I am elated to have her join our team at Wild About Trial. Her wealth of knowledge and experience in this industry is unsurpassed and the contacts she has made over her 19 years of legal reporting are extraordinary. With Beth on board, Wild About Trial is the premiere destination for following criminal cases," said Wild About Trial creator and CEO, Alison Triessl.
"I'm excited to work with Wild About Trial and get back to doing what I love, - reporting, analyzing and commenting on crime stories and trials around the country. Alison Triessl and her terrific team share the same vision for creating the go-to site for comprehensive coverage including live streaming of trials," said Beth Karas.
You can visit the Wild About Beth page for Karas' exclusive analysis and commentary.
With over 4 million users, Wild About Trial is on the forefront of changing the way criminal cases are covered. From the Casey Anthony trial that captured the nation's imagination to the explosive George Zimmerman trial, Wild About Trial has become the premiere site for live streaming and in depth coverage of the trials people are most interested in.
ABOUT BETH KARAS
http://www.bethkaras.com
Wild About Beth: http://wildabouttrial.com/one_off/beth-karas/
Beth learned how to navigate the courtroom during her eight years as an Assistant District Attorney in New York City under legendary District Attorney, Robert Morgenthau. Though she left the practice of law in 1994, Beth remains a licensed attorney. She was inspired to change careers from Assistant District Attorney to broadcast journalist at the then-new network Court TV in order to educate and enlighten the public about the justice system via televised criminal and civil trials.
Beth has evolved into a multi-platform journalist. She has appeared as a legal expert on virtually every cable and network news programs, including Nightline, Dateline, The Today Show, Good Morning America, The Early Show, CNN's AC360, HLN's Nancy Grace and Jane Velez-Mitchell, and Inside Edition.
Beth has provided legal analysis and reporting to radio stations across the country, written articles published on CNN.com, and offered reports for other online media outlets. From 1998 through 2011, Beth was a weekly contributor and legal commentator for BBC's Radio Five Live show "Up All Night" where she discussed legal issues and trials televised on Court TV/In Session and occurring elsewhere in the United States.
In addition to her work as a broadcast journalist and legal analyst, Beth is a sought after speaker and panelist on high-profile crime and punishment. As a lawyer and a journalist, Beth provides legal analysis along with on-the-scene insight and commentary to legal groups as well as the broader public. Beth is a graduate of Mount Holyoke College and Fordham Law School.
# # # #