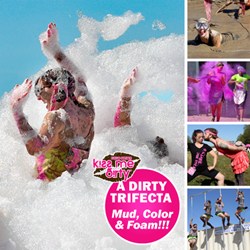 Kiss Me Dirty events have been widely embraced as a way for "today's stressed-out woman to lose herself in a sea of mud, foam, color, laughter, and girl power."
Salt Lake City, Utah (PRWEB) August 01, 2013
Women of all shapes, sizes and fitness levels will skip, jump, slip and scramble their way through a plethora of obstacles and mud at the 3rd annual Kiss Me Dirty Salt Lake City event at the Salt Lake Co. Equestrian & Events Center in South Jordan, UT. Kiss Me Dirty offers a fun, safe and rewarding fitness challenge as it encourages women to "come as you are," free from any pressure to look or act in a particular way. Don't worry…Dudes in Drag can play too.
Kiss Me Dirty empowers women in two important ways: 1) It encourages women to get off the couch and have fun with fitness, and 2) it donates a portion of event proceeds directly to gynecological cancer research and treatment support. As it did last year, the 2013 Kiss Me Dirty Salt Lake event will benefit Huntsman Cancer Institute, a leader in research on many types of cancer.
"Kiss Me Dirty chooses to partner with local cancer research facilities in each of the communities we produce events," says Kiss Me Dirty founding partner, Charity Vernon. "We know participants appreciate that their monies are staying local and furthering treatment options and research capabilities in their own communities. Kiss Me Dirty also encourages participants to hold their own gynecological cancer research fundraisers in conjunction with an event. Participants are rewarded with entry fee waivers for future Kiss Me Dirty events when they meet specific fundraising milestones."
Started in 2010, Kiss Me Dirty events have been widely embraced as a way for "today's stressed-out woman to lose herself in a sea of mud, foam, color, laughter, and girl power." From the 'Dirty Director', who acts as Master of Ceremonies and keeps the atmosphere pumping, to the custom pageant style sashes that are given to cancer survivors, Kiss Me Dirty strives to provide the right combination of energy, attitude, and value in a setting that gives every participant the freedom to express her individuality and her wild side. After all, women aren't 'one size fits all,' so why should Kiss Me Dirty?"
For additional information on Kiss Me Dirty Salt Lake City, Utah or for complete Kiss Me Dirty series event info, visit http://www.kissmedirty.com.