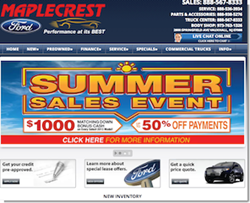 Forward-thinking car dealers understand how to leverage new technology to increase sales, and decrease costs.
-Michael Sweigart
Barnegat, NJ (PRWEB) August 02, 2013
Purpose Advertising announces Car Dealer Wordpress Theme and website for Maplecrest Ford. Basic automotive marketing websites have become a thing of the past. Purpose Advertising has made it easier than ever for automotive dealerships to get enhanced websites that combine advertising and marketing campaigns and are easy to use. They offer the ease of using the WordPress CMS which gives businesses the flexibility of being able to update information a matter of minutes whenever needed.
Purpose Advertising's automotive websites offer animated images picturing the current dynamic deals on a dealer's main homepage. From the moment a visitor comes to a Dynamic Dealer Wordpress website, they are shown exactly what is being offered on that exact day or month. Offering new details on vehicles, Maplecrest has allowed customers a way to better research an automobile before setting foot in the dealership. Full manufacturer brochures on each new model Ford are available to browse through.
From contact forms to quote requests, trade-in evaluation forms to test drive requests, tracking phone numbers, live chat, Purpose Advertising has every avenue covered to help assure that customers are not having any trouble finding a way to reach out and buy or test drive a vehicle, schedule service, or get prequalified for credit or loans.
The WordPress CMS also allows simple and quick blogs that will keep customers well informed. Plus, new posts can be automatically sent to Facebook, Twitter, LinkedIn, or other social media sites. These marketing tools are just another way to make sure vehicles or news is being seen by as many customers as possible, bringing an increase in business.
There's nothing better than being a customer with a company that shows how much they care about their customers. And having a customer-friendly website shows how much Maplecrest Ford wants their customers to enjoy doing business with them. With the amazing new tools designed by Purpose Advertising, Maplecrest has brought their website to the next level.
Purpose Advertising is targeting many car dealerships to inform them of the new wave of Car Dealer Wordpress Themes. Combine a pristine automotive dealership website with other services Purpose Advertising has to offer to sell more vehicles. Other lead generation services include search engine optimization and search engine marketing (Pay Per Click). With over 20 years experience in automotive marketing, it's safe to assume Purpose Advertising has learned the best ways to generate leads with minimal expenses. Purpose uses PPC to get traffic from highly targeted searched phrases in Google while performing their unique algorithmic approach to search engine optimization. Once a phrase is won thru search engine optimization, the phrase is not purchased anymore in PPC, thus not wasting any advertising dollars. Try out advertising/marketing services from a company that will never stop working towards your goals, Purpose Advertising.