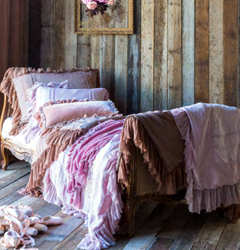 A lustrous linen tailored charmeuse with dripping ruffles of sheer gauze
Metairie, LA (PRWEB) August 03, 2013
The Garden Gates recently added the newest collection from Bella Notte Linens, Valentina. This amazing fabric embodies custom, luxury bedding from the reputable brand known for beautiful and sustainable linens. The Valentina collection is a lustrous tailored charmeuse with dripping ruffles of sheer gauze. This ornate collection plays with light and texture and makes for a wonderful accent as well as an entire boudoir decor. Bella Notte Linens is a eco-chic bedding company that uses sustainable and responsible materials and sources for creating custom, luxury linens. All Bella Notte Linens products are made to order. The Garden Gates' team is pleased to add the special Valentina collection to their already extensive line of luxury bedding.
For more information, please visit http://www.thegardengates.com or call 1-877-780-6699.
About The Garden Gates:
The Garden Gates was founded by Jacqueline Elizabeth Kendall-Harris and Chad Harris in 1999. Jacqueline plays an instrumental role in product development, interior design and in developing core principles of The Garden Gates lifestyle. Chad plays an instrumental role in the creativity of the brand, marketing and technology of the business.
Photo courtesy of Bella Notte Linens.