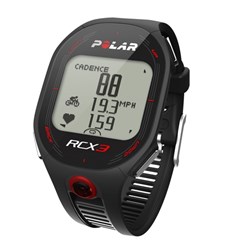 Having the heart rate max user set is huge because the 220 minus your age formula is not accurate for most people
Bozeman, MT (PRWEB) August 03, 2013
Polar RCX3 has been named the best heart rate monitor for 2013 under $150 by the testers at the Heart Rate Watch Company.
"This watch offers five zones and many advanced Polar heart rate and calorie features, plus a nice slender women's model that fits small wrists", says Rusty Squire, President of the Heart Rate Watch Company. He adds, "At the heart of the matter is Polar's best in class heart rate and calorie data, plus they are the absolute best at gym equipment integration barnone".
Add Run, Bike & GPS:
"The cool thing about the Polar RCX3 is that the watch is expandable into run, bike and GPS versions using all of Polar's top-of-the-line sensors to add pacing, distance and even mapping data to your activities", says Squire. He adds, "It is also a five zone watch so you can see the percentage of time spent in each of five different heart rate zones per workout".
The bike version comes with a Polar CS WIND speed sensor to measure speed and distance. The run version comes with the Polar S3+ foot pod to measure speed, distance and cadence. The small G5 sensor with clip transmits speed, distance and renders post-exercise maps.
Features:
The Polar RCX3 offers a fitness test, calories total and from fat, Polar training benefit and Zone Optimizer, plus the heart rate maximum can be user set. "Having the heart rate max user set is huge because the 220 minus your age formula is not accurate for most people", says Squire.
"These Polar heart rate monitors is water resistant to 30 meters but does not transmit heart rate in the water like some Polar watches do, so it is pretty much a run, bike or gym watch", says Squire.
Small Women's Model:
The Polar RCX3 women is nice and small, only 3/8 of one inch wide on the band and light at 1.3 ounces. "This makes a big difference for women with smaller wrists that don't like uni-sex heart rate monitors that are built more for a man's wrist", says Squire.
The Heart Rate Watch Company is an authorized Polar dealer and has both the men's and women's versions of the heart rate monitor, bike, run and GPS models all in stock. "You can contact us for advice at 866-586-7129", says Squire.