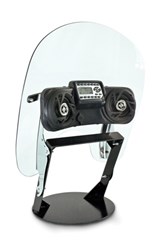 The dealer can also contact those customers that they may not have been able to serve but can now do so with this radio.
Elkhart, IN (PRWEB) August 01, 2013
Twisted Audio Radios, an Indiana-based company that specializes in motorcycle stereo systems announced today the debut of its dealer program.
Alex Foris, director of marketing for Twisted Audio Radios, spoke with excitement as he introduced the dealer program, "Every dealer receives a countertop merchandising kit with the purchase of their first 2 radios at the dealer discounted rate,"
The kit, according to Foris, includes a steel plate stand, power converter and rack card holder with full-color promotional cards. The windshield, however, is not included. Foris notes that they will collaborate with dealers on promotions and special events the dealership may have to help drive revenue to the dealer using products from Twisted Audio Radio.
Del Littrell, one of the Twisted Audio Radio owners, went on to point out that the countertop merchandising kit will not only provide an additional profit center, but the dealer will be able to offer their client a new option not yet seen in the marketplace.
"The dealer can also contact those customers that they may not have been able to serve but can now do so with this radio," Foris noted, before adding that the process for becoming a dealer is easy as 1-2-3.
All that's needed to start the dealer application process is for interested parties to visit its dealer signup page at: http://www.twistedaudioradios.com/become-a-dealer, and provide the name of their dealership, their first and last name, email address, and phone number.
For those who are interested, but have a few questions, Foris welcomed anyone to contact Twisted Audio Radios toll free at: 877.659.8351. In addition, interested parties can send an email directly to: alex(at)twistedaudioradios(dot)com.
"We're really excited about this and we're sure that becoming a dealer will benefit everyone who is accepted into the program," Foris said. "There are many dealer programs out there, but we've worked hard to load our dealer program with a variety of benefits that we feel can't be matched anywhere."
About Twisted Audio Radios:
Two guys, each with a Road King. David Gordon, a product representative in the electronics industry teamed up with Del Littrell, a product engineer in the motor coach industry. They had been friends for over thirty years so it was easy for them to pursue an idea together. The idea – a one-piece stereo system for their bikes that would integrate with the windshield. They set out to meet a wish list of requirements such as easy installation, OEM fit and appearance, weatherproof, 100W audio output, integrated powered antenna, heavy-duty AM/FM radio with weatherband and weather alert, auxiliary audio input for iPods and MP3 players. The result – more than a stereo. For more information about Twisted Audio Radios, please visit: http://www.twistedaudioradios.com/.