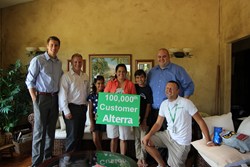 (PRWEB) August 01, 2013
How does a company obtain 100,000 customers in less than fifteen months? It takes a fun group of people all working harmoniously together with a single goal in mind…to become the fastest growing pest control company in North America. On July 25th, Alterra successfully achieved their 100,000th customer, shattering all previous national records. Any competitor might naturally ask, "How did they do that?" According to Alterra's Chief Customer Officer (CCO), Derrick Royce, "The secret sauce is found in our core values that directly support our company's mission statement - 'To increase the quality of each customer's life through every Alterra interaction.' If you walk into any Alterra branch you are guaranteed to hear phrases like 'Deliver Wow', 'Elevate the Tribe', and 'True North.' These and the rest of our core values have become the backbone of Alterra's culture, influencing all company decisions nationwide."
Alterra Pest Control places a heavy emphasis on both employee and customer satisfaction. Royce emphasizes that "employees must come first." Why? Because according to Royce you cannot achieve happy customers without first having happy employees. This goal was originally set forth by Alterra's CEO and Founder, David Royce, who wanted to create an organization that made pest control "sexy" again, where employees could be proud to be service professionals in an industry that has lost some appeal over the past couple decades.
Alterra's first core value, "Elevate the Tribe," is about building a positive team and family spirit. To achieve this, Alterra hosts team incentives, company picnics, breakfasts, charity events, and even concerts in their corporate gym for the local community. Alterra recently remodeled its corporate headquarters in Provo, Utah to provide employees a place to socialize and build a team environment. Looking more like an ad agency or tech start up in Silicon Valley, the building boasts a basketball court, movie room, and game room with foosball, ping pong and billiards. "At the end of the day, employees that are happy and fulfilled will go out of their way to treat customers better, which ultimately leads to higher customer retention. In doing so, everybody wins and it's the right thing to do," says David. Alterra's CEO also noted that the company has a goal to always be improving and that there are many more employee benefits and incentives to come as the company grows larger over the next few years.
Alterra provides residential and commercial pest control services to more than 550 cities nationwide (in 16 major markets). Alterra is accredited with the Better Business Bureau (BBB) and specializes in environmentally responsible pest control solutions. Alterra was recently ranked #52 on the PCT Magazine's Top 100 and is currently the fastest growing pest control company in the United States. Alterra is also a proud partner of the United Nation's Foundation "Nothing But Nets" which helps stop the spread of Malaria transmitted by mosquito bites. Alterra dedicates a portion of company profits annually to "Nothing But Nets," providing insecticide-treated bed nets to help save the lives of millions in underdeveloped countries.
Also see PCT Magazine's article about Alterra at:
http://www.pctonline.com/pct0513-2013-top-100-list.aspx