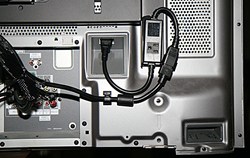 Brea, California (PRWEB) August 01, 2013
"Streaming media player sales will exceed 10 million units this year," comments Greg Haxton, the company's founder." Additionally, sound bar sales will exceed 1 million units this year. A new streaming media box seems to come on the market every month. And while all of these accomplish varying levels of online enjoyment, the one constant is that they all need to be powered up by plugging into an electrical outlet. With millions of flat screen televisions on the walls of homes and businesses, not having a convenient power outlet makes adding these accessories without wires showing challenging," notes Haxton.
"As you look up at your television on the wall one thing is certain. The TV has power going to it. The InstaOutlet™ takes advantage of the power cord going into the back of the television and modifies it with an inline outlet. The outlet created is then used to power the media players or sound bars. Then all of the wires are completely hidden behind the TV making the clean install in minutes. This is accomplished without running wires through walls, without the need to remove the TV from the wall, and without the need to add another conventional outlet," Haxton continued.
"Our pre-sales and reviews on both Amazon and home theater forums have been overwhelmingly positive," noted Haxton. "We are moving our fulfillment to Amazon and expect our product will be Amazon Prime in the next few weeks. In addition, many retailers have expressed interest in this unique product."
The InstaOutlet™ is sold as a kit and has industrial grade velcro strips to secure both the outlet and the media player. It is available on Amazon by using keyword "InstaOutlet" and also sold on the company website, as well as the company sister site. Demonstrating the product can be seen at the companies' Youtube address.