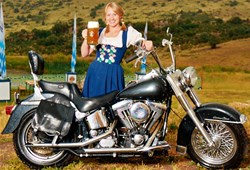 "The great thing is that the fun doesn't end when the biergarten leaves because we will continue distributing in S.D.," said Catherine Parenteau, the U.S. brand manager for Paulaner.
STURGIS, S.D. (PRWEB) August 01, 2013
Paulaner's Biergarten is joining motorcycle enthusiasts nationally on their annual road trip to Mecca, the 73rd annual Sturgis Rally. Supporting Paulaner as part of its South Dakota launch will be Rapid City based Fisher Beverage. Together Fisher Beverage and Paulaner will offer the 440,000 Sturgis Rally enthusiasts "Oktoberfest at the Rally."
In Sturgis, from Aug. 1 -11, the 400-seat Paulaner Biergarten will be complete with Bavarian décor, large canopy umbrellas, boastful sound system, good food, and plenty of Paulaner Bier serving mädchens in dirndls. "Paulaner's Biergarten brings the best aspect of the Munich Oktoberfest to Sturgis and South Dakota," said Dakota-bornTerry Zinsli, PUSA's CFO. "It is sure to become a favorite new watering hole for leather as well as lederhosen-clad Sturgis Rally revellers."
Included on the Biergarten's getrankekarte will be the authentic bier of the Munich Oktoberfest, Paulaner's Oktoberfest Wiesn, plus amber-hued Paulaner Oktoberfest Märzen and always refreshing Paulaner Hefe-Weizen.
The first steins of Paulaner will be savored on Locals' Night, Aug. 2. The United States Air Force enjoys Oktoberfest at the Biergarten on Aug 3. HOGs and other Sturgis enthusiasts arrive for the Paulaner Bier as the Rally launches on Aug. 5 running through Aug. 11. You'll need to buy your Paulaner Bier in advance, but you can preview the Biergarten at http://www.youtube.com/watch?v=cczz7-eJaM0.
Oktoberfest at the Rally is the brainchild of South Dakota's Austin Hagg and his family. After returning from a six-month internship with Volkswagen Germany, Haag developed an affinity for quality German beer. "The Paulaner tent was my favorite; it had the best festive feel and the best beer," said Hagg. "Paulaner embodies Gemütlichkeit – the German word that means cheerful mood and peace of mind. I wanted to share this spirit in my home state." When Hagg returned home, he crafted a plan to bring his pivotal beer experience with him. Paulaner USA enthusiastically offered its traveling biergarten to make Austin's interests a reality. Fisher Beverage will be the sole distributor of Paulaner Beers in southwestern South Dakota. And Austin? He's the project manager of Oktoberfest at the Rally, sure to be the largest Oktoberfest celebration in South Dakota!
"The great thing is that the fun doesn't end when the biergarten leaves," said Catherine Parenteau, the U.S. brand manager for Paulaner. "People who live in the area can continue to drink Paulaner beer. It's here to stay." Paulaner's traveling biergarten stops in 19 other U.S. cities from late March to mid-October, bringing towns the chance to experience authentic German beer traditions. For more information on Paulaner and the biergarten go to: http://www.oktoberfestattherally.squarespace.com and http://us.paulaner.com/.