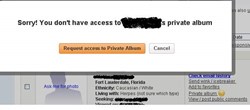 NY, US (PRWEB) August 12, 2013
LocalHerpesDating.org is the official Herpes Dating site with countless members in the US, UK, Canada, Australia and Europe. It is free to sign up and connect with 740,000 local people with Herpes. It has a large forum, with many blogs and all kind of social networking features. Even if this site provides lots of unique features including live Herpes counselor, Herpes Chat room, over 800 Herpes care locations, over 800 Herpes Q & A, over 500 Herpes treatment stories, 24*7 customer support and much more, they recently launched another unique feature - Private Album. It is totally different from profile photo album. Members can choose which ones to give access to!
How does it works?
1. This feature is only available for gold members but standard members can send private request to others.
2. Members can accept request via email or the link after login.
3. Members can choose to open private album to the exact user if they are interested in someone.
4. Members can edit private photos anytime. They can upload at most 27 private photos.
5. Member's profile will not be pending if he uploads a private photo. They have a solo submission system on this feature.
Besides, LocalHerpesDating.org have strong privacy settings. The strong privacy settings help user prevent unwanted Herpes Singles from viewing profile & photos. All personal information can be private and confidential until the user wants to take things further.
All in all, this feature is pretty good! To know all about it, please visit http://www.localHerpesdating.org.