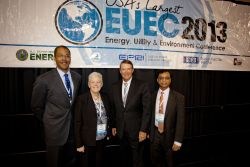 McCathy's participation at EUEC provided critical information exchange with stakeholders throughout the energy and environment segment.
Phoenix, Arizona (PRWEB) August 01, 2013
Gina McCarthy, former Assistant Administrator for the Environmental Protection Agency's Office of Air and Radiation and three-time EUEC keynote speaker, was confirmed by the U.S. Senate as Administrator of the EPA. McCarthy was nominated by President Obama four months ago to replace Lisa P. Jackson and was confirmed on July 19, 2013.
EUEC, the largest energy, utility and environment conference and expo held annually in the U.S., congratulates McCarthy on her confirmation. Her industry outreach as Assistant Administrator was welcomed at EUEC 2011, 2012, and 2013, where she directly addressed new clean air regulations and answered questions from conference delegates.
"Gina McCarthy is very familiar with the clean air issues and their impact on electric utilities. Her participation at EUEC provided critical information exchange with stakeholders throughout the energy and environment segment," said Dr. Prahbu Dayal, EUEC Chairman. "Her appointment reinforces her ability to evaluate the concerns and technical issues to build productive relationships among energy executives, environmental leaders, and policymakers. We're proud that she has addressed our EUEC audience for the past three years and we would be thrilled to welcome her back to EUEC 2014 as our keynote speaker."
In addition to a who's who in energy and environment in the plenary session, EUEC offers one of the best technical programs in the industry, where 600 speakers make expert presentations in three days in 10 different subject areas: air quality regulations; air quality monitoring; control equipment; energy and climate policy; renewable energy and electric vehicles; carbon markets and carbon capture and storage; corporate greenhouse gas strategies; biofuels, biomass, and biogas; sustainability and reliability; and energy efficiency and management.
About EUEC
EUEC is an annual energy, utility and environment conference organized with a team of directors from the US DOE, the Electric Power Research Institute, and the Edison Electric Institute. The next EUEC 2014 will be the 17th annual conference, to be held February 5-7, 2014 in Phoenix, Arizona. At EUEC, 2,000 delegates including environmental business leaders, energy executives, NGOs and government policymakers converge to collaborate on the various issues facing energy development and use, the future of electric power, and environment considerations. To speak or exhibit at EUEC contact http://www.euec.com, info(at)euec(dot)com or (520) 615-3535.