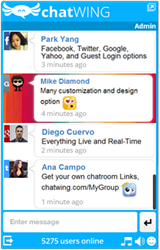 New York, NY (PRWEB) August 30, 2013
With mobile browsing and commerce on the rise, Chatwing Team has enhanced the capabilities of its professional chat box. In the newest Chatwing version, mobile users can gain the connectivity benefits offered by the chatroom.
The Chatwing chat app operates on a simple but reliable platform. First, the user must register using his email address and a desired password. There is no confirmation link needed. After that, the user can modify the overall appearance and functionality of the chat room. Unlimited chat box creation is allowed for every Chatwing chat software account. Users can also add unlimited moderators in every chat box.
Mobile users who want to maintain the traffic of their blogs can rely on the improved Chatwing chat app. It has a high rate of social media connectivity, since users can log in with their Facebook, Twitter, Google, and Yahoo accounts. The Chatwing tool is potent enough to increase the online traffic rate of any website by as high as 70%. The percentage varies, depending on the website niche and design.
The developers of Chatwing.com will continue introducing more versions in the coming months and years. These versions and updates will ensure that web users can gain the real online communication advantage that they need. Users can expect for better designs, functions, and other customization advantages.
About Chatwing.com
Chatwing.com specializes in the new field of live website chat software. Over years, the Chatwing team has introduced live chat widget for hundreds and thousands of blogs. The Chatwing application bridges people from many parts of the world, creating global synergy through the Internet. The shout box can be installed in just seconds, and it can be used for varying purposes such as leisure and Internet marketing. It also allows a user to customize the size, color, and name of the widget.