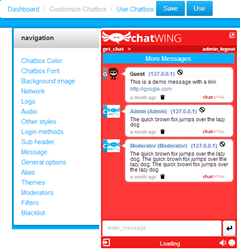 Boston, MA (PRWEB) August 03, 2013
Venturing into business is a challenging yet rewarding task. Nowadays, more people are considering putting up their own enterprise and joining the online competition. A lot of investors are just waiting to meet business-minded people ready to offer unique ideas to fund. Entrepreneurs and funders alike recognize the importance of Chatwing chatbox as a primary communication tool to interact with web visitors. The chat software tool is also embeddable and can ensure long-term traffic and visibility.
Chatwing widget will serve as a platform where websites can immediately respond to visitors' inquiries and concerns. This is also an efficient tool to discuss important business concepts with colleagues and other interested parties. Chatwing works on a simple yet stable platform that offers total convenience and efficiency to its users. Installation takes only a few seconds which makes it popular to most web surfers. Chatwing provides users with multiple ways to modify the widget to seamlessly fit in their websites.
The Chatwing chat app comes in different forms. These forms cater to various communication functions. This gives venture capitalists the communication flexibility they need in dealing with different clients and partners. Chatwing's vanity URL style may be the handiest because it can control the number of web users in the chat room, while the regular chat tool and pop-up window are designed for a thousand user-interactions. Real time communication and keeping in touch can now be a simple task than a daunting one.
The newly designed web chat tool presents entrepreneurs and capitalists with social media leverage that is a straightforward solution to boost web traffic. Chatwing chatroom is accessible to Facebook and Twitter users and recently to Yahoo and Gmail users- this clearly open ups opportunities for both the web owners and visitors. Now information exchange and searching for brilliant entrepreneurs to fund will be easier and forging partnerships will be faster.
Web surfers can check out Chatwing.com for the chat widget's available options that can help in improving their website's presence. Chatwing is continually developing and testing new features to add to the dynamic chat software. Chatwing targets to help other niche blogs and websites online with stable and real time communication.
About Chatwing.com
Chatwing.com specializes in the new field of live website chat software. Over years, the development team has introduced live chat widget for hundreds and thousands of blogs. The application bridges people from many parts of the world, creating global synergy through the Internet. The shout box can be installed in just seconds, and it can be used for varying purposes such as leisure and Internet marketing. It also allows a user to customize the size, color, and name of the widget.