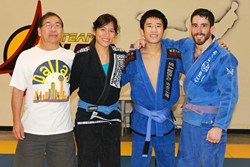 They get to have fun and build friendships with their teammates."

Coach Devon Delbrugge
Elkridge, MD (PRWEB) August 01, 2013
Crazy 88 Brazilian Jiu-Jitsu, a Mixed Martial Arts academy located in Elkridge, Maryland is now extending its services to the families and students of Ducketts Lane Elementary School.
Head instructor, Julius Park, explained the reasoning for the change stating that, "Crazy 88's after school program has gained so much popularity and received such rave reviews that the demand from Elkridge parents became too much to ignore."
Ducketts Lane Elementary School is Howard County's newest public school facility. August 26, 2013 is set as its first day of operations. It is located less than ten minutes from Crazy 88's 15,000 square foot facility which will make it very easy for parents to pick their children up.
The after care program at Crazy 88 Brazilian Jiu Jitsu provides children with the opportunity for educational and athletic advancement. A professional college-educated staff first assist the children with their homework when they arrive at the academy. They then participate in world class martial arts instruction - ranging from Muay Thai kickboxing and the latest MMA moves to Bully busting and physical fitness.
"They work on homework with the instructors and enjoy a 45 minutes martial arts class everyday going over effective self-defense," explains Devon Delbrugge, instructor and 2012 No Gi Jiu-Jitsu World Champion. "And they get to have fun and build friendships with their teammates," Delbrugge adds.
What separates Crazy 88 Brazilian Jiu-Jitsu's after school program from any other after care program in the Baltimore area is the level of coaching the children will receive. All the instructors at Crazy 88 Brazilian Jiu-Jitsu have professional and international level experience in Brazilian Jiu-Jitsu, Muay Thai Kickboxing, and/or Mixed Martial Arts.
Crazy 88 Brazilian Jiu-Jitsu has an amazing track record of turning children into champions. In 2013, Crazy 88 student Chris Tran and Devon Delbrugge both medaled at the World Championships. Both of these individuals started in Crazy 88 as teenagers.
If you have a child that attends Ducketts Lane Elementary and would like to learn more about Crazy 88 Brazilian Jiu-Jitsu's Afterschool Program please visit the website - http://www.HowardCountyAfterSchool.com or call the school at (443) 283-1450.