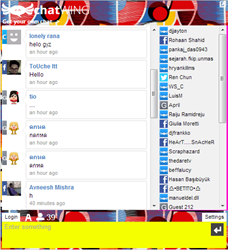 Cambridge, MA (PRWEB) August 05, 2013
Looking for jobs and career opportunities has become easier because of the Internet. Web surfers can help each other with the job search or they can seek websites and blogs that offer the same assistance. With this premise, Chatwing.com launches an informative widget that can be embedded and utilizes social media well.
Chatwing chat software has undergone improvements aiming to provide users with a communication leverage that will further social connectivity and expansion. One of the latest upgrades includes Yahoo and Gmail log in methods, which makes the chat app raises the website's level of accessibility. Career support websites can still interact with Facebook and Twitter users and transfer important chat messages from chatbox to one's own Facebook wall as a form of announcement and promotion. The process of looking for the right people for a certain profession will not be tedious and challenging.
Chatwing's thousand user capacity can definitely accommodate web surfers across the globe. Sharing interview tips, professional advices and job descriptions can be accomplished in just a few seconds and can stay in the chat box for a longer time. This will allow new web visitors to view previous messages where they can also gain from earlier conversation exchanges. Job help websites can also engage in group chats through Chatwing vanity URL form. This is possible with the generation of username and shortlinks, thus career assessment can be done efficiently online.
Chatwing chat app is highly customizable. Web admins can design the chat tool in ways that can add up to the site's professional reputation or entice more web surfers into the web page. Users can experiment with the color combinations and upload photos as the widget's background image.
In the coming months, Chatwing chat software team plans to release more advanced chat software that can also help business oriented websites and niche blogs improve online presence. The Chatwing.com is always updated with effective tips on how to use the improved chat tool in website developments and communication advantage.
About Chatwing.com
Chatwing.com specializes in the new field of live website chat software. Over years, the development team has introduced live chat widget for hundreds and thousands of blogs. The application bridges people from many parts of the world, creating global synergy through the Internet. The shout box can be installed in just seconds, and it can be used for varying purposes such as leisure and Internet marketing. It also allows a user to customize the size, color, and name of the widget.