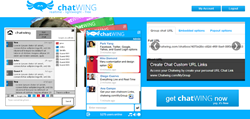 Portland, OR (PRWEB) August 07, 2013
Chatwing.com introduces an enhanced chat widget that can greatly help business websites in reaching target markets efficiently. Online competition requires web owners to be active and proactive to withstand the popularity contest. Websites should not only focus on quality contents but also on how to engage web users on a regular basis. Having a web chat tool installed in one's site will ensure a continuous flow of traffic.
Chatwing chat software helps make a website accessible to millions of online users. From Facebook and Twitter users, Chatwing included Yahoo and Gmail log in method in its useful features. Web owners can now expand their market reach to these active social media users effortlessly. They can intensify their marketing efforts through interacting with potential clients and promptly addressing customer concerns. In terms of communication stability, Chatwing chat box can provide users with real time communication while interacting with thousands of web surfers. Flexibility wise, web admins can switch from thousands to selected users. Through Chatwing's vanity URL form, initiating group chat is possible by generating usernames and shortlinks.
Widget customization can also play an important part in drawing in more web visitors. A creatively designed chat box can get the attention of web users yet it must be backed up with sensible discussions to sustain their interest. Chatwing shoutbox can be altered in various ways and as advanced as CSS customization method. Web owners can experiment with colors and theme designs. They can also upload photos into the chat app to support an ongoing marketing campaign or play music to give visitors a unique chatting experience.
Majority of online users are drawn to websites with decent and professional reputation, Chatwing team considered this and included full conversation control option for web owners. This Chatwing capability lets admins and assigned moderator maintain a harmonious interaction among chat visitors. Deleting messages and banning offensive chatters can be done real time.
Chatwing chat app dev team is coming up with more user friendly options for the next version of its dynamic chat software. Chatwing team is continuously conducting surveys from web surfers to gain insights they can use for the developments.
About Chatwing.com
Chatwing.com specializes in the new field of live website chat software. Over years, the development team has introduced live chat widget for hundreds and thousands of blogs. The application bridges people from many parts of the world, creating global synergy through the Internet. The shout box can be installed in just seconds, and it can be used for varying purposes such as leisure and Internet marketing. It also allows a user to customize the size, color, and name of the widget.