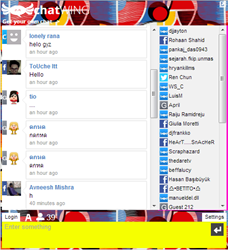 Seattle, WA (PRWEB) August 10, 2013
The information age offers vast opportunities for learning and exploring new perspective. Numerous learning websites are also available online and the number keeps on growing. Seeing the potential of Alternative Learning niche, Chatwing.com has released an interactive widget capable of global connectivity and social media empowerment. This chat tool can be installed to websites to boost their visibility rate.
Alternative learning websites are expected to be professional-looking and contents are decently presented. Chatwing chat software is aware of this online dynamics that's why they have upgraded the chat tool's customization options. Various colors, border design and customized theme are available to choose from. CSS customization is also offered that lets web owners alter almost everything about the chatbox. Learning website owners can also adjust the number of online users they want to chat with by choosing the appropriate shoutbox form.
The regular chat software can facilitate discussions among thousands of users. The pop up window are for sites that want to maintain a less cluttered web page while the vanity URL form is ideal for private and group chats. Because Chatwing is socially integrated, Alternative learning website can reach out to interested learners globally and make their site accessible to avid social media users. Chatwing shoutbox does not require users to undergo new registration, as long as they have a Facebook, Twitter, Yahoo or Gmail account.
Chatwing chat app will primarily serve as a communication platform between learners and mentors in the website. Teachers can elaborate concepts and step-by-step procedures clearly and without delay. Another good feature of Chatwing chat tool is that it can save previous messages that can be accessed by new web users.
About Chatwing.com
Chatwing.com specializes in the new field of live website chat software. Over the years, the development team has introduced live chat widget for hundreds and thousands of blogs. The application bridges people from many parts of the world, creating global synergy through the Internet. The shout box can be installed in just seconds, and it can be used for varying purposes such as leisure and Internet marketing. It also allows a user to customize the size, color, and name of the widget.