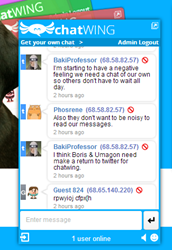 Miami, FL (PRWEB) August 11, 2013
Chatwing.com acknowledges website owners' need to expand online reach and increase web traffic. This pushed Chatwing.com to include Yahoo and Gmail users who can easily log in Chatwing chat room. Now, website owners can interact with millions of web surfers across the globe as efficiently as possible. This newest Chatwing chatroom feature has also provided web admins the opportunity to easily build their database from email and social media accounts.
Based on a short online study, current Chatwing users are satisfied with the convenience and accessibility the improved chat box offers. It only takes three simple steps before the chat tool goes functioning. Users can immediately connect with thousands of web surfers around the world without interruptions. Options such as the widget form, colors and border design can be adjusted as well. Chatwing is known and opted for its high customization level unlike its competitors.
Chatwing chat software is designed to be flexible to the needs of an average online user. He can choose to discuss his ideas and insights to a thousand users at once. He can initiate a group chat for strengthening his relationship with online contacts through Chatwing's vanity URL option. Sharing significant links and sources of information is a vital way to maintain connections. A chatbox serves as a reliable platform for web owners and visitors to talk about a recent post or clarify points that are not elaborated on an article thus increasing the level of communication between them.
Managing Chatwing chat app in terms of chat activities can be accomplished alone or with the help of an assigned moderator. With Chatwing's conversation control, web owners can see to it that conversations are not marred by offensive words and boisterous chatters. Moderators are given the power to erase messages or ban visitors easily.
Chatwing assures web surfers that it won't stop developing advanced chat widget that will upgrade real time communication online. In the coming months, Chatwing will be introducing more user friendly options that will help business websites and niche blogs in improving online visibility.
About Chatwing.com
Chatwing.com specializes in the new field of live website chat software. Over years, the development team has introduced live chat widget for hundreds and thousands of blogs. The application bridges people from many parts of the world, creating global synergy through the Internet. The shout box can be installed in just seconds, and it can be used for varying purposes such as leisure and Internet marketing. It also allows a user to customize the size, color, and name of the widget.