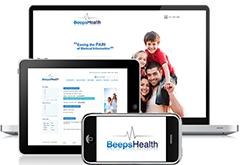 (PRWEB) August 02, 2013
The team at Off-Road Studios, a 360 interactive and creative design Studio, specialized in delivering digital interactive experiences and 360 integrated solutions across the globe is proud to announce the development of a medical website and iOS application for BeepsHealth.
BeepsHealth is a medical web portal that functions as a health tracking system. It allows the user to enter medical BeepsHealth allows the user to enter and keep track of medications, weight, food consumption, blood pressure and view the changes overtime using interactive charts. It also helps the user to set nutritional goals. The user can update all information on BeepsHealth and retrieve it anytime by creating an account.
BeepsHealth offers a lot of benefits to both the users and the doctors. It allows the users to connect to doctors and book appointments. The Web development team at Off-Road Studios used ADOBE EDGE to develop an interactive 3D chart which allows the user to track past surgeries. BeepsHealth offers new and exciting ways to manage your health needs. The iOS application development at Off-Road Studios also developed an iOS app which allows the users to connect to BeepsHealth anytime.
For more information on Off- Road Studios and to find out how their web development and iOS application design team can help you and their complete digital design services, check out http://www.offroadstudios.com/contact or connect with them on Facebook, to view the Medical Fitness App.