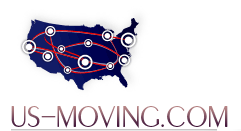 The company has elaborated a step by step moving process for the convenience of the customers
(PRWEB) August 01, 2013
Experts at US-Moving.com are very excited about their new blog. The site US-Moving.com has recently published a new blog which introduced their new moving guide that addresses the most important aspects, directly or indirectly, associated with the moving process. The guide is filled with valuable information and very useful tips. The company US-Moving.com discusses information like how to choose a mover, how to compare prices and get the best deal, how to get a moving estimate, what are the expenses one might have to incur for the moving process and many more.
The organization has years of experience and has a team of highly skilled professionals. According to US-Moving.com, it has tried to share its valuable experience in the form of the blog. Therefpre, customers looking for time saving ways should definitely use the guide. The guide covers important aspects like how to pack the best way to protect important belongings, getting moving insurance, what to ensure one week before moving, what are the important moving supplies etc. In many cases, customers complain about the last minute nuisance created by the movers.
To save customers from such annoying situations, US-Moving.com suggests doing research and gathering advance ideas about the different moving companies operating in different corners of the country. To save time and effort, this company has built a huge database comprising the most recognized moving companies of the country. And the moving guide, as claimed by the company officials, will serve as an absolute problem solver. The company officials are pretty excited about their recent composition and they regard it as one of their most successful offerings to the customers.
This well established company has been able to build a strong reputation across the country. Now the organization is looking to expand to further assist customers. Due to the many cases of unprofessional service provided by the moving companies, customers now prefer to seek the services of professionals with strong references and reviews. A customer reading the moving guide available on the official site of http://www.US-Moving.com will realize how important it is to stick to the reputed service providers. The company has elaborated a step by step moving process for the convenience of the customers. It has been designed in a way so customers wanting to know more about different moving aspects will get detailed information.
US-Moving.com is a proud moving company and always works hard to retain its loyal customer base. Customers interested in their service or the moving guide should visit their official site for more information.