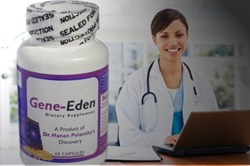 Heart disease and depression put an enormous psychological stress on men. Add to that, erectile dysfunction and you get a train wreck. These people need an antiviral remedy that gets to the heart of the matter. Forgive the pun... -Mike Evans, polyDNA
Rochester, NY (PRWEB) August 02, 2013
Heart disease and depression are both strongly linked to erectile dysfunction (ED). The herpes virus (both oral and genital) may lead to both heart problems and clinical depression. In an indirect manner, an infection with the herpes virus may lead to erectile dysfunction. polyDNA suggests Gene-Eden-VIR, an antiviral, herpes remedy to help prevent ED.
As the Mayo Clinic website notes, "Erectile dysfunction - difficulty maintaining an erection sufficient for sex - can be an early warning sign of heart problems. (2)" Another source of Erectile Dysfunction is depression. WebMD says that, "Sexual problems, such as erectile dysfunction (ED) or an inability to have an orgasm, often co-exist with depression. (3)"
"As a common infection… HSV not only relates to mild skin or mucosa lesions but it is also associated with the occurrence of CVD (heart disease). (1)" In another study published in the Scandinavian Journal of Infectious Diseases in 1996, researchers showed that "Genital herpes causes considerable psychological and psychosexual morbidity. The most common emotional responses are depression, anguish, anger, diminution in self-esteem and hostility. (4)"
"Heart disease and depression put an enormous psychological stress on men. Add to that, erectile dysfunction and you get a train wreck. These people need an antiviral remedy that gets to the heart of the matter. Forgive the pun…." – Mike Evans, polyDNA
polyDNA recommends that men with a herpes infection take Gene-Eden-VIR to help reduce the numbers of latent virus in the system. This may reduce chronic inflammation that is associated with heart disease, may help one recover from depression associated with HSV, and may ultimately reduce or eliminate erectile dysfunction entirely.
Gene-Eden-VIR is designed to fight against the latent herpes virus. A recent post marketing clinical study showed that Gene-Eden-VIR is safe and effective. Up to 70% of those studied reported a decrease in viral symptoms. (4)
Each ingredient of Gene-Eden-VIR was chosen through a scientific approach. Scientists scanned thousands of scientific and medical papers published in various medical and scientific journals around the world to identify the safest, most effective natural ingredients that target the latent form of HSV. (5)
To learn more about Gene-Eden-VIR, visit http://www.gene-eden-kill-virus.com. All orders of Gene-Eden-VIR are completely confidential, and no information is shared or sold to any third party. Privacy is assured.
References:
(1) http://onlinelibrary.wiley.com/doi/10.1111/j.2047-2927.2012.00037.x/full
(2) http://www.mayoclinic.com/health/erectile-dysfunction/HB00074
(3) http://www.webmd.com/depression/guide/sexual-problems-and-depression
(4) http://www.ncbi.nlm.nih.gov/pubmed/9163020
(5) cbcd.net/Gene-Eden-VIR-Clinical-Study.php
(6) buygeneeden.com/studies.php
polyDNA is a biotechnology company that develops dietary supplements using the unique scientific method developed by Dr. Hanan Polansky, which is based on Computer Intuition.
In addition to his unique scientific method, Dr. Polansky published the highly acclaimed scientific discovery, called Microcompetition with Foreign DNA. The discovery explains how foreign DNA fragments, and specifically, DNA of latent viruses, cause most major diseases.
polyDNA developed Gene-Eden-VIR , an antiviral natural remedy that helps the immune system kill latent viruses.