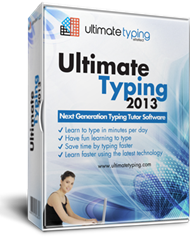 ...this latest release now includes even more access to a variety of downloadable documents, which means that users can target any area of interest and incorporate those documents into the typing exercises.
New York City, NY (PRWEB) August 06, 2013
Digital communication has revolutionized the way businesses and individuals operate and this has led to a rise in the importance of typing skills within the social environment as well as the workplace. This led to the need to design typing software that allows individuals to hone their typing skills so that they are able to achieve higher levels of productivity and efficiency. eReflect team has recently launched Ultimate Typing, a typing tutor software that is designed to help a wide range of individuals who are keen to enhance their speed and accuracy of typing while at work or online. As today's statement clarifies, this latest release now includes even more access to a variety of downloadable documents, which means that users can target any area of interest and incorporate those documents into the typing exercises.
The eReflect team elaborated that Ultimate Typing is set apart from other typing software products available on the market. The claim that it is indeed life changing software stems from the fact that it offers several unique features that are not present within previous software products. Ultimate Typing offers its users Easy Learn and Adaptive Learning technologies, and by using the Wiki Connect feature, users can import their preferred data from the internet. This means that now users can get information on any topic, improving their work skills and their conversational skills at the same time.
As the eReflect team explained in today's statement, the Easy Learn technology relates to the video tutorials, explicit instructions, and easy interface that the software offers to its users through which the learning process is made relatively simple. The complementary feature, Adaptive Technology, is largely based on tracking progresses and designing customizable lessons that cater to the skills and competency level of individual typists. eReflect pointed out that this feature has not yet been introduced by any other competitor product and therefore Ultimate Typing is the first software of its kind where users are able to understand their areas of weakness through the progress chart graphed by the software.
The eReflect team noted in its latest announcement that expert typing skills can allow individuals to gain a competitive edge over others and therefore realize monetary gains. The team further elaborated that earning through digital media is now a popular part-time or full-time career path, and those individuals that can type faster are likely to be more able to enhance their earning capacity. Furthermore, individuals that spend a larger proportion of their time working on computers for their business needs are able to save time through higher levels of productivity and efficiency realized by better typing skills.
In the statement today, eReflect's representatives pointed out that Ultimate Typing offers its users a trusted certification program through which individuals can get their desired job with relative ease. Developers at eReflect revealed that the certified program offered by Ultimate Typing results in a certification of competency that is awarded to users who have successfully completed the course. Given that eReflect is a globally renowned software company, there is no doubt that such a certificate is likely to be held in high regards by employers, and this will allow individuals to add typing as an added skill within their resume.
The team further emphasized that learning to type with speed and accuracy can allow individuals to interact socially at a much higher level than before. Typing skills are not merely beneficial at work but also effect the social sphere of life, and virtual chat is as common as face to face conversation these days.
Developers at eReflect further stressed today that with all the typing required, everyone needs to adopt better hand positioning and finger placement while typing in order to avoid painful health problems such as RSI. Learning to type through Ultimate Typing can allow users to become familiar with ergonomic techniques and therefore mitigate the risks of being prone to such problems that are often reported by typists.
The extensive range of benefits highlighted by the eReflect team today clearly shows that users of this software will realize substantial positive gains that will truly impact their lives.
For more details on Ultimate Typing™ please visit http://www.ultimatetyping.com/.
About Ultimate Typing™
Ultimate Typing™ software is designed specifically for the improvement of typing skills. Created by eReflect, a world leader in e-learning and self-development software, Ultimate Typing™ has been informed by the latest developments in the science of touch typing.
Since its creation in 2006 by Marc Slater, the company has already catered to over 112 countries all over the world, offering products with the latest cutting-edge technology, some of which are among the world's most recognized and awarded in the industry.